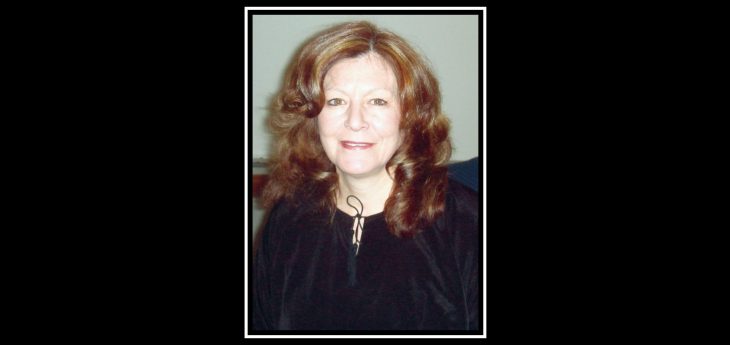 It is with a heavy heart that LGR announces the tremendous loss and passing of our long-time friend and colleague, Vassoula Vronti Orchard.
She passed away peacefully on Sunday 7th May 2023 after a courageous battle with Anaplastic Thyroid Cancer. She was 68.
Vassoula was a long-serving LGR employee, since it was first founded over thirty-five years ago. She has been serving the Greek Cypriot community, through her dedication to her work at LGR ever since.
Vassoula was born in Trikomo in 1954, and attended the American Academy after moving to Larnaca before arriving in the West end of London and embracing the bright lights of City Life, whilst always honouring her heritage and traditional values.
Vassoula was one in a million. A vibrant, warm, kind and thoughtful soul who was always on hand to help her colleagues, friends and loved ones, to the best of her ability. She was a consummate professional, an asset to the community and was simply irreplaceable.
Her generosity knew no bounds and there will be a huge void in the hearts and lives of everyone who had the pleasure of knowing her, working with her and loving her.
Vassoula is survived by her husband Clive, her two daughters Maria and Alexia, grandsons Tate and Miles who she absolutely adored and doted on, and son-in-law Chris, sister Demetra and brother-in-law Costakis, brother Panicos and sister-in-law Yioulla, her nieces and nephews and their families, her grandchildren, extended family and friends.
The funeral will take place on Wednesday 24th May at 11.00am at St. Panteleimon Church, 660 Kenton Road, Harrow, HA3 9QN, followed by a burial at Pinner New Cemetary, 660 Pinner Road, Pinner, HA5 5RH at 1pm.
The wake will be held at St. Panteleimon Church Hall after the funeral.
Flowers are welcome and can be sent to Demetriou & English, 131-133 Myddleton Road, London N22 8NG. There will also be an option for those wishing to donate to The Royal Marsden Cancer Charity in Vassoula's memory via a Web link / Charity box on the day.
There will also be a memorial book at the hall for people to share their thoughts and memories, if they wish to, in remembrance of a beautiful woman whose light will shine on in the hearts of all who were lucky enough to know her.
Everyone at LGR extend their condolences to the family, and we thank her for her services to our community and to London Greek Radio.
Memory eternal, Vassoula. You will be missed.
Article written by London Greek Radio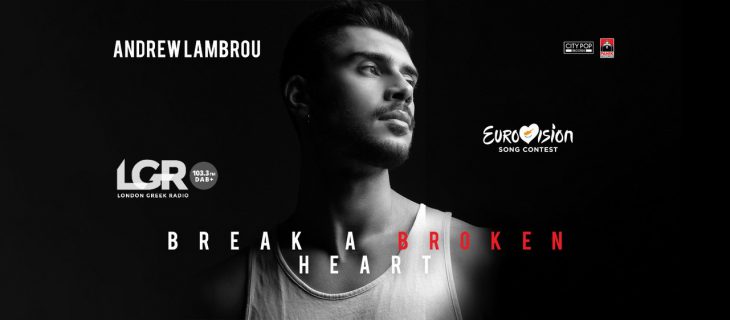 Well done Andrew Lambrou came a highly respectable 12th out of 26 countries at the Eurovision Song Conest final at the M&S Bank Arena in Liverpool, on Saturday night, the 13th of May 2023.
The Cypriot artist has written himself into Eurovision immortality, with one of the best Cypriot results in the event.
Cyprus broadcaster CyBC confirmed that up-and-coming Cypriot Australian star Andrew Lambrou would fly the flag at the Eurovision Song Contest in Liverpool last year.
After weeks of teasing the world with only the singer and a snippet, "Break a Broken Heart", the Cyprus Eurovision entry by Mr Lambrou was finally released.
We were promised a strong mid-tempo song and Andrew has certainly lived up to that script, releasing his Eurovision music video for "Break a Broken Heart" in March.
The Cypriot song is certainly catchy and a radio friendly number, which has already entered London Greek Radio playlists.
Born in Sydney to Greek Cypriot parents, Andrew learnt piano, and at 5-years-of age he won 1st place in a school competition. He originally sung his way to relative stardom, covering the likes of Evanescence, Harry Styles, Camilla Cabello and Sam Smith.
In 2015, when Andrew was just 17 years old, he finished in the top 20 in The X Factor Australia. This included a stopover in London at the five-seat challenge with his mentor, singing legend, Chris Isaak where he performed in front of music mogul Simon Cowell and pop star Rita Ora.
That same year, he was noticed by Sony ATV and was signed by Maree Hamblion. Since then, he has released a string of singles, "Throne", "Lemonade", "Confidence" and "Electrify".
Next stop, Liverpool. Tony Neophytou caught up with Andrew Lambrou while in between soundchecks and tours of the press circuit at the arena.
Q. You've finally made it to Liverpool, and you've been rehearsing on the stage, it must be a special feeling, right?
A. Yeah, it really is. It's so special, to be finally on the stage and to see what it all looks like has been mind-blowing for me. And there is so much anticipation when it comes to Eurovision. Such a build-up and so to finally get up on stage… I could picture it; I could picture all the people in the crowd. And I could picture what I will all feel like special and mind-blowing.
Cyprus will be staged with the help of Austrian artistic director Marvin Dietmann and Ross Nicholson from London's world-renowned directors Black Skull. The involvement of the Austrian and British creatives highlights the Cypriot ambition to impress at this competition.
A. Yeah, sure did, Marvin and Russ are absolutely amazing at what they do, and I really feel like I'm working with the best in the world and that's something really encouraging for me for an artist to feel that support, to feel that level of expertise on the team. I can't fault a single thing that Marvin and Russ they know what they're doing and for me that's extremely special because I know I am in great hands.
Q. The Cypriot entry ebbs and flows constantly with a built-up, excitement throughout the song. The visuals are matching the growth and dynamics and elevates the song's strengths and it culminates with fire-lit stage!…
A. Yeah for sure, I really wanted to build when it comes to the song, I want the end to have built up to a point where it is just the big explosion at the end you know, and I'm really proud of the song and I'm excited to get on stage and deliver that for everybody. The most important things for me are the ability to connect to the song. I want people to feel what I am singing. I want people to feel the lyrics, the passion coming out of my body through the tv screens, to the people in the arena. And if I can execute that plan than I'm over the moon.
Q. "Break a Broken Heart", why was this the song which spoke to you?
A. It is a big decision when it comes to a Eurovision song, I wanted it to be something authentic. I wanted it to be something I could relate to personally. Because I feel that really shines through on stage and I want people to connect to it. And the song has such a great impact for me it did anyway. When I first heard it and I heard that big Ooh-ooh-ooh-ooh-ooh… note at the start, it just captivated me. And I said ok, what is this song, and then I just wanted to listen to it more and more after that. So when it comes to Eurovision there are so many fans who keep up to date with what's happening in the Eurovision world, but there are many people who tune in and don't actually listen to the songs beforehand. They are just ready to watch the show. So, for me I wanted it to grab you quickly and I feel that this song did that for me, so the goal was to do that for the people at home.
The song was written to suit Andrew's vocal and is a rather vocally demanding song, requiring his full skills as a singer to be on-point.
Q. Impressive vocals Andrew, did you want a song that would actually stretch you vocally?
A. Yes, I did. I wanted a song's that gonna be impactful and to show what I am capable of on the biggest stage on the world. Although it might be a bit daunting with such a big vocal. I have really worked as hard as I can to make this song really comfortable myself and I feel comfortable at this point, which is great.
Andrew Lambrou delivers an impassioned vocal performance that gives voice to anyone who has felt like at the lowest point. Because of a break-up and lyrics speak of perseverance and strength developed through strength.
The vocals are on-point and sung with emotional intensity and sincerity.
A. Yeah, thank you so much that's probably one of the greatest compliments I have gotten so far, and people are really loving my vocals, and that all comes down to how hard I've been working and practicing this song and feeling as comfortable as I possibly can. It's just trying to compliment the visuals with the audio.
Q. What is the ambition, Andrew? It's your 25th birthday in May, what would be a lovely birthday gift, qualification, I am guessing reaching the final? I am sure you will do just fine; you won't be breaking Cyprus hearts (to coin a phrase).
A. (Laughs) 100% correct that would be the ultimate birthday gifts for me, I don't think anyone has to get me birthday gifts for the rest of my life after that (laughs).
Q. I've been following your Eurovision journey for quite some time, with Australia Decides 2022, looking back on it, do you think that gives you much needed Eurovision experience?
A. Yeah, I believe everything happens for a reason and to introduce me to the Eurovision world and going on to the stage it gave me some experience and it also taught me a few lessons too and now that I am fortunate enough to be in this position now, I am using all the knowledge I've got from the past into play now.
Q. There is a minor tradition with diaspora artists in Eurovision, such as Lisa Andreas and Andy Paul, former UK Cypriot acts of past Eurovision editions. What was the reaction from fellow Australians and Aussie Cypriot diaspora to your act?
A. It's been fantastic, I can't really complain at all. The love and support I've been getting over in Australia from the Greek Cypriot community has been something giving me so much motivation, so I am a very happy man with a big smile on my face. I can't wait to make as many people as proud as I can.
Q. Was time taken aside for Greek Easter, amidst the rehearsals…
A. I had a typical Greek Orthodox Easter making flaounes and pafkia which is a version of flaouna with meat inside it that only comes from Paphos where my grandparents come from in Cyprus. So, we kept with the traditions, and we went and saw some family and it was really great just to unwind and to forget about things for a minute, and just to spend time with loved ones.
I can see from Instagram you were 'baking' flaounas, in terms of keeping up with tradition and culture I heard you love modern Greek music, Laika and zeimbekika…?
A. That's for sure, at any event you can see me dancing the kalamatiano to all the classics and I'm not as good as my dad at doing the zeimbekiko that's for sure. My dad is the professional but I'm trying to follow in his footsteps.
Q. What do you think about before a performance?
A. For me it's about staying calm. To stay calm I think about what is important to me. I think about things outside the Eurovision world, I think about my family, my loved ones, my passion for music, and grateful I am to be here right now. I'd like to take a deep breath and understand I'm here to do what I like to do. So that's my goal, my little ritual beforehand. It's all about staying calm for me.
Q. Post-Eurovision, any thoughts…
A. I want to travel, and I want to release more music…
Thank you, Andrew Lambrou and the best of luck, to you and the Cypriot delegation.
The Cypriot star absolutely smashed that performance, absolutely fair play to him!
You can follow Andrew on Instagram @andrew_lambrou, where he already boasts almost 500k followers. Andrew was doing impressive TikTok numbers before announcing Eurovision, now at 700k followers and climbing.
May 2023
Article written by Tony Neophytou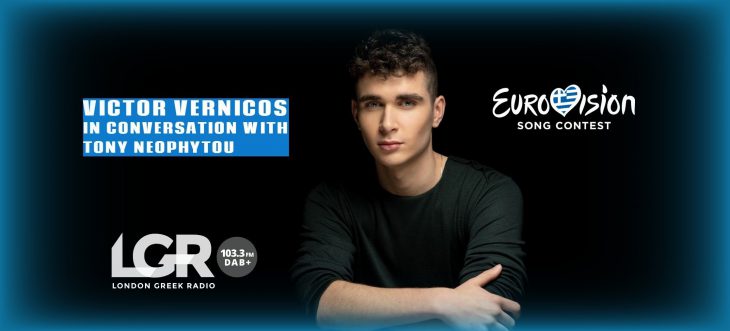 Greece has selected Victor Vernicos Jorgensen as the act to represent the nation in the Eurovision Song Contest 2023 at the Liverpool arena.
16-year-old singer-songwriter who is of Greek-Danish descend, born in Athens, is the youngest Greek act ever to compete.
Victor with a deep, unique vocal-timbre is performing his introspective song about stress and anxiety.
"What They Say", a song that oozes a mid-tempo ballad flair, also delivers an optimistic message to encourage those struggling mentally to overcome stress. Victor wrote it as a 14-year-old boy.
He released a song "Hope It's In Heaven" at the age of just 14. Victor was then signed to Royal Music and 25/7 Management. Last year, Victor released his official debut song as a professional artist "Fake Club".
Victor was taught piano at the age of 4-years-old, with vocal and guitar lessons which followed. Victor then went into music production and has been writing his own songs since he was 11. He has been editing the production of his own music and in attendance of Music Technology classes.
With his rehearsals under way for Liverpool at the M&S Bank Arena, Tony Neophytou caught up with Victor to learn a little more…
You've stepped onto the Liverpool Arena. What's it like performing on stage?
I love the Liverpool Arena. It is amazing, the M&S Bank Arena!…
You're of mixed heritage, half-Danish, half-Greek, born and bred in Marousi, Athens and you speak quite good English, at home which language prevails?
We speak both English and Greek, not much Danish. I speak more Greek with my mum; my dad has been living in Greece for 25 years. when we're all together we speak English. In Liverpool we speak English… (Tony: are you learning Liverpudlian?) I am trying too (laughs).
You have a unique vocal fibre and it's a mature voice. After playing your song to fellow colleagues without revealing your age, they were completely astounded to know you are just 16…
It's a huge compliment. I am working on the voice, I've always thought my strength was song-writing, and it's come to the stage (voice) its likeable at least, and people like the fact its deep and I'm young, that's cool.
"What They Say" is a self-penned song. You've stamped your personality and authenticity and honesty on the song.
I write and produce my own songs. I wrote this song when I was 14 years old. it is truly one of the most open and honest songs I have ever written. I try to write my songs with honesty and that's the most important part for me, and that's why I think it has a stamp on it and my personality comes because of the honesty. I mean we are all unique, and when you're honest that uniqueness comes out because you allow it too.
(Tony) The lyrics have a great depth about anxieties, and stress you felt once. The introspective song is fusing intense feelings, melancholy, frustration, angst and finishes with optimistic undertone…
It was about my first ever experience with anxiety when I was 13 years old and that was my understanding reality. I got overwhelmed by the feeling of anxiety hit me, the fear of responsibility of fear in my heart. Because managers from the US and UK started to get involved. It was a lot of responsibility to take on at such an age, and in that moment, I picked reality, it was a defining moment where I understood it was reality, you get what you give out. In that moment, I picked is it going to be reality or stay anxious or stay at home, no it's not going to happen, and two and years later I'm at Eurovision.
It is a liberation of the end of it. The song is a monologue, and I can feel it in the second verse. It's like ranting to your best friend and I when I get on that stage, I'll be ranting to let go of my fears and getting on the biggest stage in the world and actually becoming an artist. My goals are huge. It's going to be a defining moment and with all my strength finally let go of everything, I think. I hope. Honestly, it's going to be the best experience.
I just put it all together in my head right now, as we're speaking. I really feel it honestly. Now you've really helped me to clear my head… (Tony Neo: that's what I am good at conversation), you're good, I am not surprised. I understood that from the first moment we spoke… you're amazing man!
(Tony) I instantly liked it from the first verse, "Late August" it's because 26th August, it's my birthday. August, it's the eight-month, too, lucky number eight.
Late August… that's really cool I'll send you a happy birthday on the 26th of August. Ooh that was smart… yes, we are coming up in the second semi-final, we are performing eight place and yes "late August", so I hope we're not going to be late. I guess that's the lucky number…
Konstantinos Rigos is responsible for the stage concept, and it's quite creative. There's youthful exuberance with bits of choreo, digital selfies and Greek alphabet letters, on the graphics. Victor, you move quite a bit on stage...
The staging is to show my athleticism because I do sports (not to show I am sporty), but to express the song to bring that energy forward, because I have a lot of that energy. I mean it's the release we talked about before when it comes to balancing the vocal and the movement. We have 100% sat that down. It is all about technique and the voice. It is counting your breath.
With Eurovision I am learning to be a better performer every day. Eurovision is honestly turning me into the best version of myself when it comes to an artist. No matter what, Eurovision is a really great experience and it's given me a lot to think about and practice on.
You are studying online from a London school, is that right?
Minerva's Virtual Academy I love that school it has honestly given me a lot of flexibility and freedom to do what I need to do Eurovision and music in general. I stopped going to physical school and started going to this school in September (last year). I have gained 20 to 25 hours per week on music. and I wouldn't have made that change to (online schooling) to do Eurovision.
LGR wishes you and Greece, the best of luck, in the competition.
You can follow Victor on instagram @victorvernicos.
Greece competes in Semi-Final 2 on Thursday, May 11th. Victor is #8 in the running order of 16 countries.
May 2023
Article written by Tony Neophytou