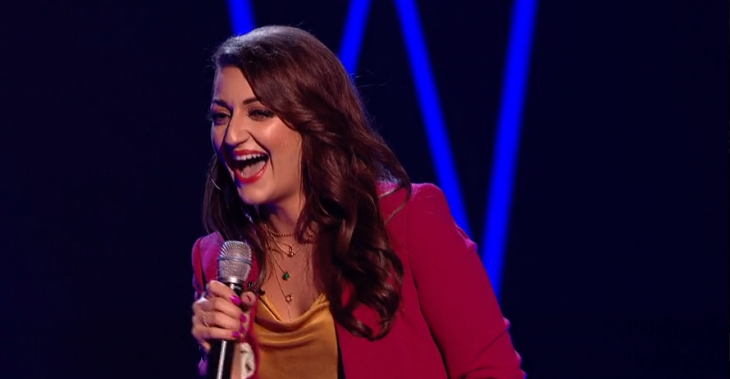 Christina Ellinas has wowed the judges with her performance to 'Lullaby' by Sigala ft Paloma Faith in her audition on The Voice UK.
The third instalment of the series last weekend saw Tom Jones heap praise for the singer.
Before auditioning, the 27-year-old former flight attendant told viewers she was "Greek Cypriot" and her beaming smile and bubbly personality clearly made a good impression on the studio audience.
Christina was born in Liverpool and lives in London. She has performed in several pubs in Camden, singing acoustic covers of big names in the industry, such as Whitney Housten, Rita Ora, Coldplay and Zayn Malik.
On last week's show, she only required one judge to "turn around" in order to make it through to the next stage of the competition, but Will.i.am, Tom Jones and Olly Murs all turned around!
Olly Murs in his performance reaction to Christina said, "That was amazing. Fantastic audition. I love your voice, love the energy, I love looking around and seeing the place feel alive."
Tom Jones commented: "I love what you did (with your voice) your in control of that song. I couldn't find any fault with you at all."
Christina chose Will.i.am as her coach, who she once met on a flight she was working on.
Will.i.am recollected "The year 2012 or 13…" when he met Christina at the airport lounge. That for sure is a pretty happy coincidence.
Christina was supported by her grandmother in the 'holding area' with hostess Emma Willis.
Grandma appeared delighted at seeing Christina's progression to the next round.
Christina mentioned on the show that she enjoyed cooking Cypriot dishes with her grandma.
The singer plays the piano and has an Official Facebook and YouTube channel.
London Greek Radio wishes Christina the best of luck in the talent show.
Article written by London Greek Radio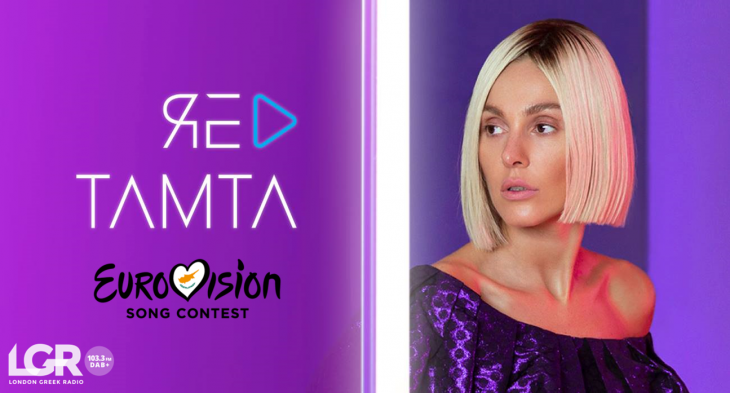 Tamta Goduadze will represent Cyprus at this year's Eurovision Song Contest in Tel Aviv in May.
The Cypriot broadcaster CyBC announced the female artist and song a few weeks ago, ending weeks of speculation.
Tamta will sing 'Replay', a pop-dance, up-tempo number.  Her entry is penned by Greek-Swedish hitmaker Alex Papaconstantiou, aka 'Alex P', the man behind Eleni Fouriera's 'Fuego' – the impressive runners-up from last year, along with Sweden-based songwriters Teddy Skye, Viktor Svensson, Kristoffer "Bonn" Fogelmark and Albin Nedler.
Tamta, 38, was born and raised in Georgia, where she started singing at the age of five and moved to Greece at the age of 20.  After singing on a TV reality talent contest, she was signed by a major record label in Greece and has a back catalog of several hits.
The sure-fire Eurovision track is believed to be exactly moulded for Tamta's signature pop-style credentials.
CyBC chiefs felt that Tamta was right for this year's contest as she is perceived earnestly to have the "complete package" that comprises of a strong 'live' singer and entertaining act.
The Cypriot tune will be officially released in February or March, further maximising Eurovision fans excitement.
Cyprus also returns with Eurovision artistic stage director Sacha Jean-Baptise, the woman behind 'Fuego'.  She will be tasked with elevating Tamta's stage routine ensuring that it will translate into points on the scoreboard.
The Head of the Cypriot delegation, Evi Papamichael explained that a big named artist would be a necessary solution to answer the Eurovision's competitiveness, amidst so many countries, which numbers 42 this year.  She said that Tamta was the broadcaster's preference this year.
Tamta has had a long-time quest to participate in the Eurovision Song Contest and almost came close to achieving it on previous occasions.  In 2007 Tamta was pipped to the post by Cypriot singer Sarbel, in Greece's Eurovision heat stages, with the ballad 'With Love'.  In 2016, she missed the deadline for the Greek selection process by a few hours with the subsequently-released track 'Unloved'.
Tamta felt it an incredible honour to be representing Cyprus, a nation which has always strongly supported her music endeavours and undertaking this bold task, was a way of her giving something back to her Cypriot fan-base.
Having released four studio albums (including a Best Of) and multiple hit singles, Tamta is frequently heard on the LGR airwaves.
For all of your Eurovision news on Cyprus, make sure you regularly check back to lgr.co.uk and tune in to hear "Replay" on LGR in the coming weeks.
London Greek Radio wish Tamta and the Cypriot delegation the very best of luck in the competition.
Article written by Tony Neophytou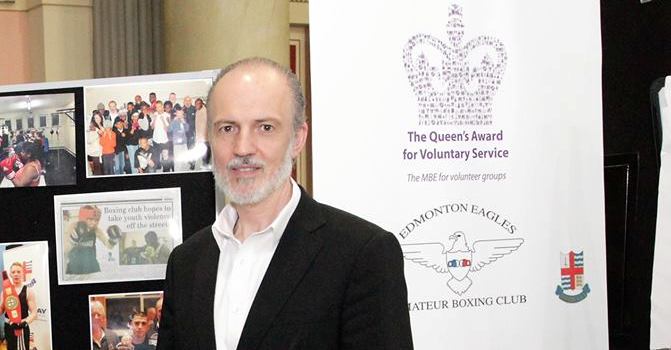 British Cypriot Dr Costakis Evangelou (Head Coach) is awarded an MBE in the 2019 New Year Honours for services to young people in North London.
He has been the head coach at Edmonton Eagles Amateur Boxing Club for several years who were honoured with the prestigious Queen's Award for Voluntary Service, the highest award a voluntary group can receive in the UK.
The Club which runs boxing and mentoring sessions at its club base in Edmonton and in schools and youth organisations was one of only 187 charities, social enterprises and voluntary groups to receive this award.
And prior to that, Head Coach Costakis Evangelou was honoured with the Jack Petchey Foundation Leader Award for his work in coaching and mentoring the young in North London.
Costakis Christos Evangelou was born in Cyprus in Patriki Famagusta in 1958 Father's name in Christos Evangelou from Phlamouthi Mother's name Photou Evangelou from Patriki and Came to England London in 1960 to live in North London. He attended Primary Schools: Grafton School. Tufnell Park School. Secondary School was Archway School. He has four Children 3 sons 1 Daughter – Phodis, Andreas, Christopher and Marisa.
He has run 4 London Marathons raising over £30,000 for charity Qualifications include; Batchelor Of Divinity; Post Graduate Certificate of Education; and a Doctorate in Divinity. He has for over 30 years has dedicated his life to the selfless service of others. As a minister, community leader and humanitarian he works tirelessly and gives sacrificially for the benefit of others.
He is the President of Community Heart (London), a registered charity set up to help and support the local community, especially the young and vulnerable. As President, he oversees the running of several groundbreaking projects including, Edmonton Eagles Amateur Boxing Club, Running with the Vision – Youth Football, Youth Zone Youth Club and Sign Post, a project that feeds and helps support the homeless and vulnerable.
As the Head Coach and Honorary Secretary of Edmonton Eagles Amateur Boxing Club, he has worked tirelessly to help turn it into one of the leading sports and youth projects in North London as he oversees and runs all the different aspects of the Club's work. Based in a part of Edmonton which is one of the most socially and financially impoverished areas in England the Club is turning around many young people's lives with over 250 young people benefitting from the different sessions, many of which are free, it provides over 6 days a week. It runs boxing and mentoring programmes for schools, behavioural units and youth clubs and women who have suffered or witnessed domestic violence.
He has also set up a referral process with the youth offending team where their clients can attend as part of their positive activities.
As well as winning numerous awards, in 2015 the Club won the prestigious Queen's Award for Voluntary Service recognising its work in helping young people leave behind negative and destructive lifestyles. His ecclesiastical work and humanitarian work is extensive; he has carried out a number of humanitarian missions to Africa.
In 2004 he travelled to an isolated community in the Eastern Region of Ghana. Negotiations with the Chief of the area resulted in the granting of a piece of land for the building of a medical clinic. The clinic was desperately needed by this community of 4000 people who had no other access to medical care.
To help raise much of the funds required for the building of the clinic Archbishop ran the London Marathon twice. As many as 500 people receive medical treatment at the Centre each month.
He continues to visit the Clinic to receive a personal update on the progress and work of the Centre and its subsequent impact it has made on the community as a whole and to continue to provide equipment and medical supplies. His membership and involvement with Churches Together in England (CTE), gives him the opportunity to work with the multi-cultural and denominationally diverse churches in England.
He has attended and lent his total support to the modern day slavery meeting in the House of Lords.
Article written by Dr Costas Evangelou & Parikiaki picture, source