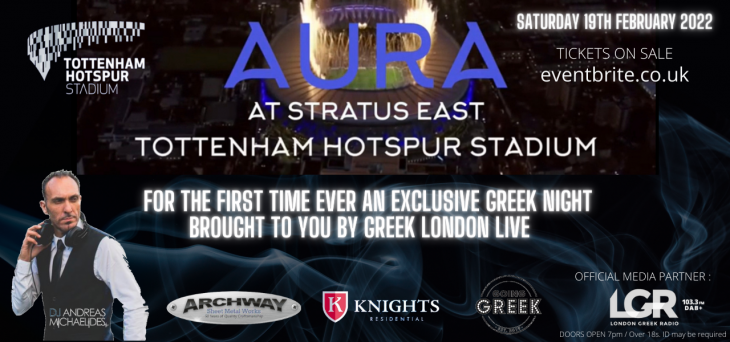 For the first time ever, an exclusive Greek night at the world famous Tottenham Hotspur Stadium: "AURA" at Stratus East… 🤩 Saturday 19th February !
Enjoy stunning, panoramic views across London and across the arena from the highest vantage point available in Tottenham Hotspur Stadium, accompanied by the best in Greek Music and more, courtesy of London's renowned DJ Andreas Michaelides plus guests !
An ultra-modern, iconic space hosting this "never been done before" Greek VIP event: "AURA" at Stratus East, brought to you by @greeklondonlive – the pioneers of Greek Entertainment in the UK!
Event Sponsors: @going.greek @archway_steel @knightsresidential 
Official Media Partner: LONDON GREEK RADIO 103.3 FM @londongreekradio 
Get your tickets now at https://aurabygreeklondonlive.eventbrite.co.uk/
Over 18s. ID may be required. ROAR.
#tottenhamhotspurstadium #aura #stratuseast #greeknight #greeklondonlive #londongreekradio
Article written by London Greek Radio

Top 40 Songs. The definitive chart rundown this month, December 2021.
This month's biggest, most in demand hit songs.
1 Stelios Rokkos, Vaslis Karras, Melina Aslanidou – Posi Monaxia
2 Giorgos Giannias, Giorgos Papadopoulos – Vale Fotia (New)
3 Kaiti Garbi – Ama Fygo
4 Giorgos Kakosaios – Min Tis Peite
5 Petros Iakovidis – Asto (New/Exclusive)
6 Michalis Hatzigiannis – Kommena Ta Prepei
7 Konstantinos Christoforou – S' Ena Tetarto (LGR ident)
8 Josephine – Ta Kalytera Paidia
9 Konstantinos Argiros, Rack – Telika
10 Alcatrash – Kapoios Kapou S' Agapaei (New)
11 Andromachi – Vasano Mou (New)
12 Nikos Apergis – Mi Me Paidevis
13 Christina Salti – To S' Agapo
14 Giorgos Kakosaios – Einai Christougenna… giafto
15 Nikos Vertis – S' Agapao
16 Konstantinos Argiros – Molis Htes (New)
17 Nikos Oikonomopoulos – Apo Erota
18 Paola – Ematha Na Mathaino
19 Despina Vandi – Xristougenna
20 Katerina, Giannis Ploutarhos – Poso Oraia Matia Echeis
21 Natassa Theodoridou – Iparho Gia Sena
22 Thodoris Ferris – Chilia Kommatia
23 Giannis Ploutarhos – Tha Se Nikiso (New)
24 Kaiti Garbi, Dionysis Schoinas – Atoflio Chrysafi
25 Anna Vissi – Kala Xristougenna
26 Stefanos Pitsiniagkas – Dynata (Ta Ta Ta) (New)
27 Petros Iakovidis – Tatouaz
28 Gorgos Mazonakis – Ores Mikres
29 Giorgos Sampanis – Kati San Asteri
30 Sarbel – To Party Archizei
31 Eirini Papadopoulou – Ya Habibi
32 Christos Cholidis – Agapi Tha Pei
33 Loukas Giorkas – Gia Tin Ellada
34 Konstantinos Pantelidis – Meine
35 Marina Satti – Pali
36 Nikos Apergis – Mia Kyriaki
37 Dimitris Basis – Kathe Mera
38 Antonis Remos – Otan Se Rotisane
39 Les Au Revoir – Christougenna Mazi
40 Notis Sfakianakis – H Mpalanta Ton Xristougennon
London Greek Radio. Est. 1989.
On 103.3 FM in London, on DAB+ Digital Radio in Birmingham, London, & Manchester, online at lgr.co.uk, on your mobile via the new and improved App, and on your Smart Speaker.
Bringing you closer to your culture

The authenticity of a London Greek Radio station with its LGR family which is both London-based and home-grown with its personalities.
Article written by London Greek Radio