London Greek Radio Top 40 Songs.
The definitive Chart rundown this month June 2022.
This month's biggest, most in demand hit songs.
1 Konstantinos Argiros – Eleftheros
2 Helena Paparizou x Antique – Ti Ti (+ TimeSwap Remix)
3 Petros Iakovidis & Josephine – Geia Sou
4  Giorgos Papadopoulos & Elkana Marziano – Katalaveno (Katn Alenu)
5 Anastasia – Ligo Ligo [NEW]
6 Michalis Hatzigiannis & Tamta – Ekdromi
7 Vasilis Karras feat. Giorgos Kakosaios – Foitites [NEW]
8 Nikos Vertis – Zise
9 Giorgos Sabanis – Gennimeni [NEW]
10 Panos Kiamos – Tha Me Zitas (Tha Apousiazo) 2022 
11 Anna Vissi feat. Daphne Lawrence – Aima [NEW]
12 Josephine – Kyma Mou
13 Nikos Oikonomopoulos – Oso Tipota Se Thelo [NEW]
14 Giorgos Mazonakis feat. Arash – Tora Tora (Boro Boro) [NEW]
15 Natasa Theodoridou – Den Ntrapikes [NEW]
16 Giorgos Livanis – Meta Tis 12
17 Stavento feat. Marseaux – Xairetismous [NEW]
18 Thanos Petrelis – Val'to Magio Soul Kai Figame [NEW]
19 Dimos Anastasiades – S' Agapao Akoma [NEW]
20 Eleni Foureira x Dj Bobito (Ft. Ayman) – El Telephone [NEW]
21 Eirini Papadopoulou Feat. Nikos Koklonis – Leei Leei Leei
22 Andromache – Ela 
23 Panos Kiamos – Na Tragoudo Pos S' Agapao
24 Kaiti Garbi & Giannis Ploutarhos – Tryferotita
25 Katerina Liolou – Mi Rotas Tous Allous
26 Morfoula – Esena Mono [NEW]
27 Kostas Martakis – Den Perimena [NEW]
28 Panos Kalidis – Vale Ta Kala Sou [NEW]
29 Elena Tsagrinou – Mykonos Kai Santorini [NEW] 
30 Ivi Adamou – Agoraki Mou
31 Ilias Kampakakis – Den Xehniesai [NEW]
32 Nikos Oikonomopoulos – Pali Gyrisa
33 Sasa Basta (Feat. Knock Out) – Peftoun Vrohi Ta Goal
34 Nikiforos – Zo I Eho Pethani
35 Giorgos Livanis – Osa Eho Zise
36 Eleni Hatzidou – Tremo Olokliri 
37 Christos Cholidis – Sta Patomata 
38 Giorgos Giannias – Koukla Se Vitrina 
39 Loukas Yiorkas – Mechri Ton Ourano [NEW]
40 Thodoris Ferris – Ftaio Kai Ego [NEW]
103.3 FM London
DAB+ Birmingham, London, Manchester
website: lgr.co.uk
London Greek Radio App (free to download)
Smart Speaker, 'Play London Greek Radio'
LGR was launched in November 1989 and is the first and only commercial Greek radio station on FM in the UK.
Bringing you closer to your culture.
Article written by London Greek Radio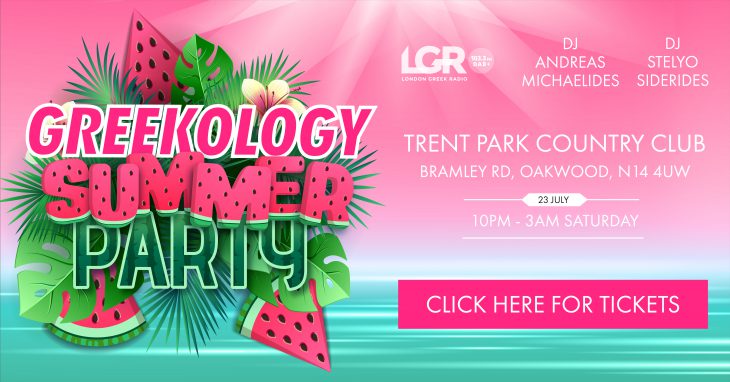 Right, listen-up… due to the phenomenal success of LGRs Club Night in May and by popular demand, the next Greekology event has been confirmed for Saturday 23rd July!
We're going to continue to celebrate 10 years of LGR Greekology, so make sure you join us at The Country Club, Trent Park N14.
Once again, DJ Andreas Michaelides will be on the decks with LGR's DJ Stelyo Siderides making his debut at Greekology!
A mix of Greek & English hits, including the best Modern Laika, Greek Club, Greek Classics and Zeimbekika alongside all the biggest LGR hits of the decade.
As always, there will also be surprise guests live in-person at The Country Club from 10pm 'til late on what's expected to be a real Summer-sizzler!
We can now confirm that Eric Eracleous will be performing and DJ Sophia Michael will also be joining us on the decks! 
Now don't leave it too late this time!
If you're really quick, there's some reduced limited early-bird tickets, which are available whilst stocks last!
Photo ID will be required for this over-18's event! 
Make sure you've got your ticket booked today at lgr.co.uk (via eventbrite).
LGR's Greekology Club Nights  at The Country Club, Trent Park N14 on Saturday 23rd July!
See you there! 
This event is sponsored by Funland at the Brunswick Centre, next to Russell Square tube and Sioferos Real Estate – Sales, Rentals or Purchasing of Property in Limassol.
Broadcasting on 103.3 FM in London,
On DAB+ (Digital Radio) in London, Birmingham & Manchester
Online at lgr.co.uk
On your smart speaker 'Play London Greek Radio', and on LGR's App available free on the Apple and Play Store.
Bringing you closer to your culture.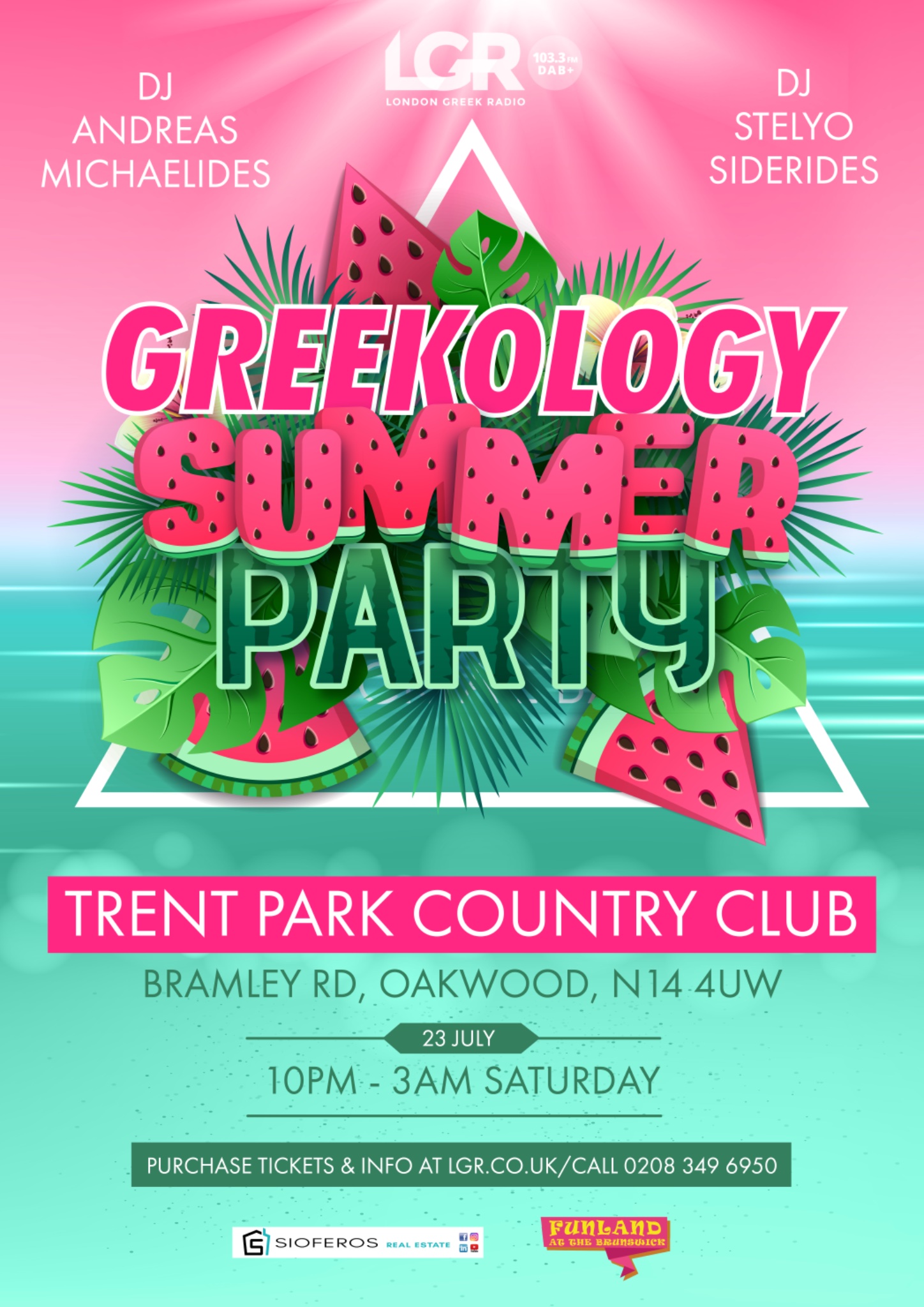 Article written by LGR Club Nights