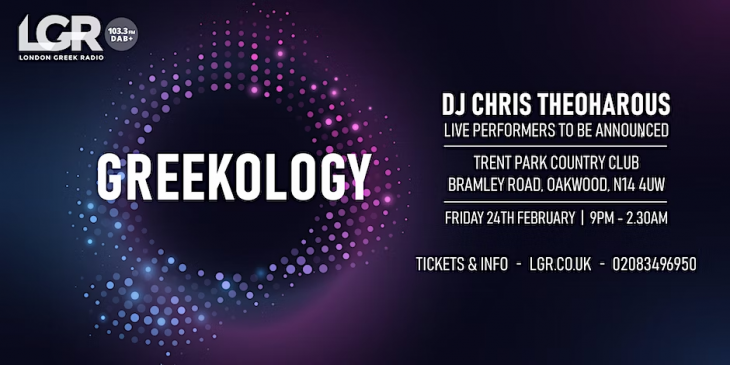 Due to the phenomenal success of LGRs Club Nights in 2022, and by popular demand, our first Greekology event in 2023 has been confirmed for Friday 24th February!
Our very own DJ Chris Theoharous will be on the decks from 9pm till 2.30am with the biggest Greek & English hits + confirmed guests on the night: The Lewis Sisters and their dancers and Giorgos Theodorou with live Fusion Greek band!
Join us on the 24th as we party the night away at The Country Club Trent Park in Oakwood.
Head over now to (this link) for your tickets. If you're really quick, there's some reduced limited early-bird tickets, which are available whilst stocks last!
So, make sure you've got your ticket secured today at lgr.co.uk.
This is a strictly over-18's night and physical photo ID will be required for entry. Unfortunately, only physical proof of over-18 ID will be accepted.
See you at The Country Club Trent Park for our first Greekology of 2023!
Now don't leave it too late this time!
LGR, the radio station you can trust, since 1989.
Broadcasting on 103.3 FM in London
On DAB+ (Digital Radio) in Birmingham, London & Manchester
Online at lgr.co.uk
On your smart speaker 'Play London Greek Radio', and on LGR's App available free on the Apple and Play Store.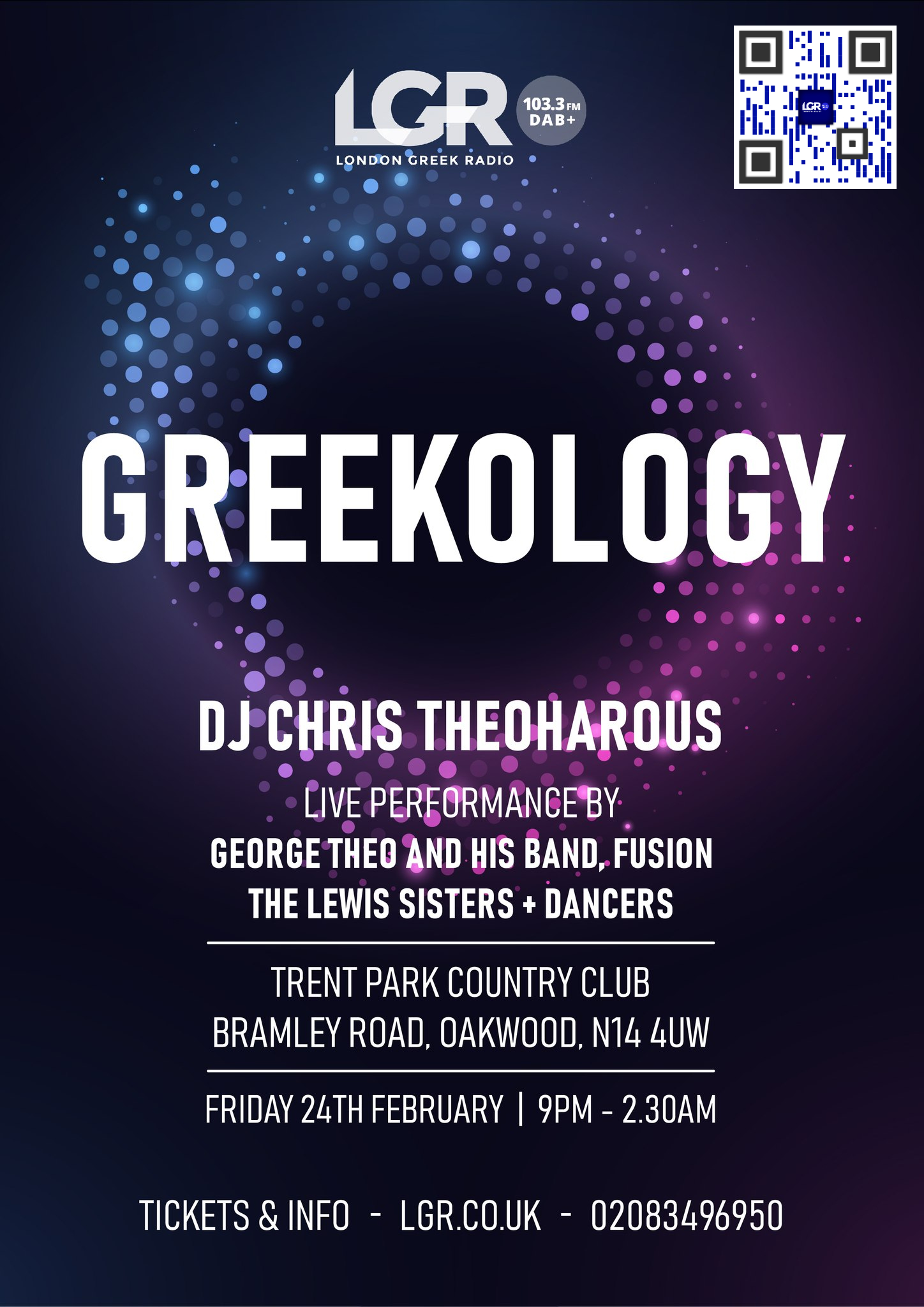 Article written by London Greek Radio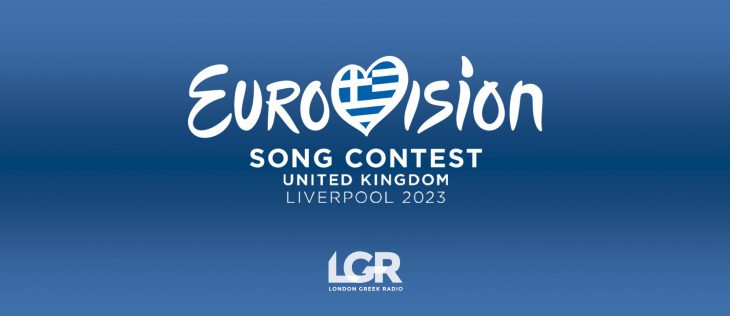 The seven acts in the running to represent Greece at the Eurovision Song Contest 2023 have been revealed.
The acts were shortlisted from 106 entries received by ERT following a request for submissions last year.
The winner will be chosen by a combination of jury panel and audience vote.
The voting is split into (i) a 7-persons jury panel, and (ii), a 70-person 'Audience Committee'.
2,982 fanatic fans have responded to sit as "audience", places were allocated through a random draw. The lucky 70 individuals were placed into 'focus groups' strictly according to age demographics. Its share of the vote is 50.6%, while jurists, other 49.4%. The "audience" have spoken and cast their verdict at a voting session held last month, in Athens.
Greek bosses are teasing fans about its Eurovision 2024 plans, meanwhile. ERT's president Konstantinos Zoulas, speaking in December said, "we are planning something more, than a national final or ethnikos telikos, (translated)" for next year.
Take a look at the contenders below.
Antonia Kaouri & Maria Maragkou – "Shout Out!" 
Konstantina Iosifidou – "We are Young"
Klavdia – "Holy Water"
Leon of Athens – "Somewhere to Go"
Melissa Mantzoukis – "Liar" 
Monika – "I' m Proud"
Victor Vernicos – "What They Say"
Updated: 19/01/2023 (Top 3 finalists) 
Antonia Kaouri & Maria Maragkou, Melissa Mantzoukis, Victor Vernicos 
Antonia Kaouri and Maria Maragkou's entry is an English-language 'up-tempo pop-rock' song. Antonia is a former Voice of Greece act and Maria, a Greek actress.
Konstantina Iosifidou is a 22-year-old, former contestant on The Voice of Greece. "We Are Young" is an English-language 'rock-pop ballad'.
Klavdia, is a newcomer artist and a former contestant, on The Voice of Greece. "Holy Water" is a 'slow, melodic ballad', with a social-conscience lyric. She's working with Arcade, a team of music producers, who as co-writers of Greece's entry in 2021, have Eurovision pedigree, too.
Leon of Athens is a recording artist and songwriter. The entry here is 'up-tempo' 80's synth pop. He worked on the final version of this song, with singer and songwriter David Sneddon, who he co-wrote "Better Love" (Greece, 2019), with too. He co-writes it with Katerine Duska. Their latest single/duet "Babel" is a radio-friendly hit, on LGR.
Melissa Mantzoukis, 18-year-old German-Greek singer, she was a finalist on the "Deutschland sucht den Superstar" the German equivalent to Pop Idol. It is a mainstream song, which is 'up-tempo pop-dance' about female empowerment. The songwriters from Greece and the Netherlands.
Monika – real name Monica Christodoulou, is a singer-songwriter . Monika wrote the original soundtrack to "The Lost Daughter" recently, which means she is causing waves on the world-stage, too. "I'm Proud", is 'melodic' and 'mid-tempo'.
Victor Vernicos is a part-Danish/Greek singer-songwriter. The song is a 'mid-tempo ballad' and 'emotional', about human stress and anxiety. Victor's unique vocal timbre may be an asset, too. At just 16-years-old, Victor shows a lot of maturity.
Greek bosses will meet with artists and representatives from their record labels to assess their plans, before finalising their scores. As in recent years, the record label's plans for Eurovision have been an important part of the final decision.
The Eurovision semi-finals are airing on 9th and 11th May and the grand final is on May 13th at Liverpool Arena.
Published: 22/01/2023
Article written by London Greek Radio

London Greek Radio Top 40 Songs.
The definitive Chart rundown this December 2022.
This month's biggest, most in demand hit songs.
1 Konstantinos Argiros – Afou Se Vrika De S' Afino
2 Giorgos Kakosaios – Kane Mas Tin Hari
3 Nikos Oikonomopoulos – Prepi Den Prepi
4 Natasa Theodoridou – Perifania Mono
5 Konstantinos Argiros feat. Light – Iliovasilema
6 Ilias Vrettos – Se Kapio Minima
7 Christina Salti – Savvato [NEW]
8 Aspa – Ela
9 Ilias Vrettos – Os To Apeiro
10 Nikos Vertis – Zise
11 Nikos Makropoulos – O Vardaris Stin Athina
12 Elli Kokkinou – Gia Fantasou
13 Katy Garbi feat. Thodoris Ferris – Ola Sta Katalogizo
14 Giorgos Papadopoulos & Elkana Marziano – Katalaveno (Katn Alenu)
15 Petros Iakovidis – Na Na Na Tragoudo Gia Sena [NEW]
16 Dimos Anastasiades – S' Agapao Akoma
17 Christos Menidiatis – Dinata Mazi [NEW]
18 Anna Vissi feat. Daphne Lawrence – Aima
19 Anastasia – Mystiko [NEW]
20 Panos Kiamos x Oge – De Se Vlepo (Apopse Vazo Terma)
21 Sakis Rouvas feat. Deevibes – Hronia Polla
22 Michalis Hatzigiannis – Esi Ise Pano Ap' Ola
23 Josephine – Pirkaya
24 Despina Vandi – Hristougenna
25 Giorgos Mazonakis feat. Arash – Tora Tora (Boro Boro)
26 Christos Mastoras – Ego Gia Dyo (20 Hronia Eleana Vrachali, Paidi Diko Sou)
27 Anna Vissi feat. Daphne Lawrence – Aima
28 Eleni Foureira x Dj Bobito (Ft. Ayman) – El Telephone
29 Panos Kiamos – Tha Me Zitas (Tha Apousiazo)
30 Helena Paparizou x Marseaux x Joanne – Katse Kala (Arcade Remake)
31 llias Kampakakis – Vrohi [NEW]
32 Helena Paparizou – Fevgo [NEW]
33 Giorgos Kakosaios – Einai Christougenna… Giafto
34 Giorgos Sabanis – Poios Ticheros
35 Triantafyllos – Se Pairno Gia Na Sou Po
36 Anna Vissi – Kala Xristougenna
37 Stamatis Gonidis x Marley – Monos Mou Boro [NEW]
38 Melisses – Crayon [NEW]
39 Helena Paparizou – Christougenna Xana
40 Panos Psaltis – Tha Vreis Pollous
103.3 FM London
DAB+ Birmingham, London, Manchester
website: lgr.co.uk
London Greek Radio Mobile App (free to download)
On Smart Speakers, 'Play London Greek Radio'
Article written by London Greek Radio