The Ministry of Transport in Cyprus has issued an announcement giving instructions to passengers affected by the cease of operations of Cobalt air Ltd.
According to the announcement, passengers that were due to fly on the 17th or 18th October 2018 on the cancelled Cobalt air flights, are kindly requested to secure a single one-way Economy Class ticket for their repatriation. Passengers will have to present the evidence of their booking (boarding pass, receipt) to the Accounts Department of the Ministry of Transport, Communications and Works.
For more information in regards to how and when the claim will be made, a subsequent press release will follow.  Alternatively, passengers that were due to fly on the cancelled flights of the 17th and 18th but have not yet issued any tickets may call at any of the telephone numbers below to assist them in issuing a one-way ticket for their repatriation.
All other passengers, Cypriots and non-Cypriots, who were due to travel up to and including 24th October 2018, and wish to return to their place of residence, are kindly requested to call the numbers below to secure a single one-way ticket in economy class for their repatriation.  The cost of their repatriation will be covered by the Republic of Cyprus:
Top Kinisis: 00357- 22869999
Orthodoxou Travel: 00357- 24841100
Passengers who purchased tickets by Debit or Credit Cards can contact their Banks for information regarding possible reimbursement.
The Ministry of Transport would like to clarify that the above arrangements do not constitute legal obligations of the Republic of Cyprus, but they are undertaken in an effort to facilitate the stranded passengers.
Additionally, the Ministry would like to stress out the fact that the above arrangements do not exempt Cobalt air Ltd from any liabilities against their customers
Article written by CNA/LGR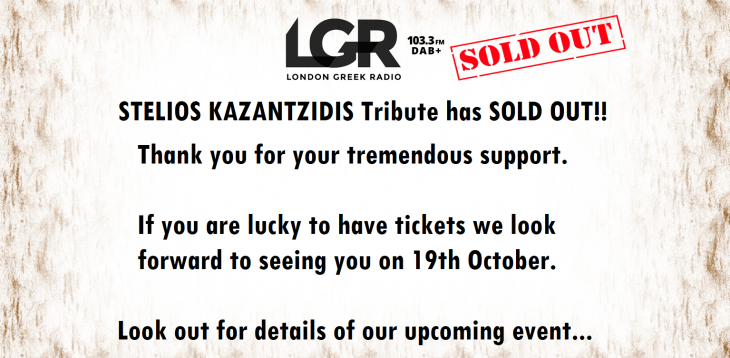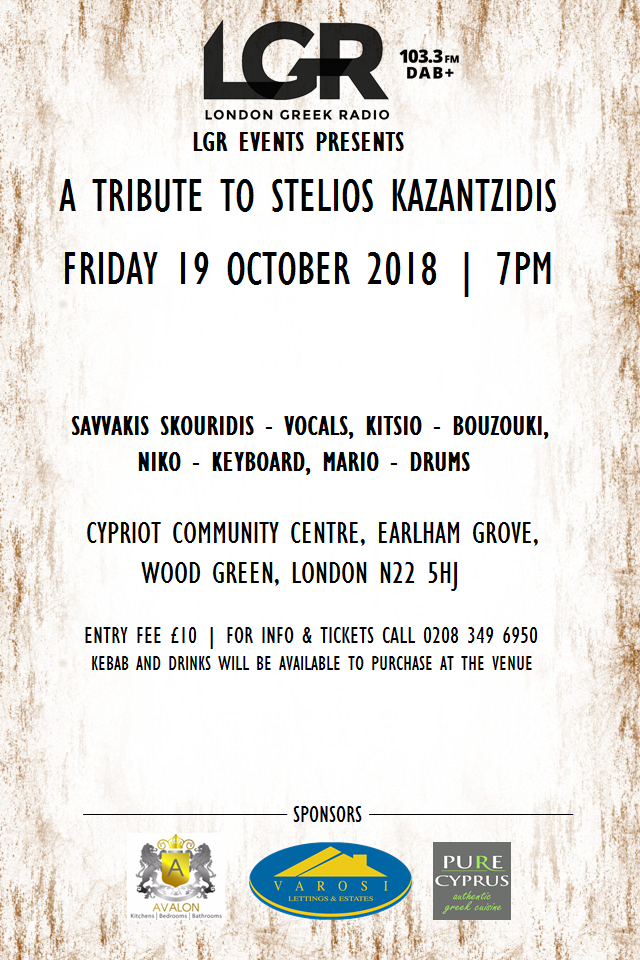 LGR Events Presents a tribute to legendary singer Stelios Kazantzidis for one night only, on Friday, 19th October from 7 pm, at the Cypriot Community Centre, Earlham Grove, Wood Green, London N22 5HJ.
Entertaining on the night are Savvakis Skouridis (vocals), Kitsio (bouzouki), Niko (keyboard), Mario (drums).
SOLD-OUT. Thank you for your tremendous support.
Kebabs or souvlakia and drinks on sale at low prices.
Music, dancing, in a pleasant and friendly atmosphere!
We look forward to seeing you all there!
Sponsored by Avalon, kitchens|bedrooms|bathrooms, Varosi Lettings and Estates in Tollington Park, Finsbury Park with over 450 properties in North and East London areas, and Pure Cyprus Restaurant bringing you authentic Greek cuisine in Goodwin Street, Finsbury Park
Article written by
"THE PROPERTY SHOW"
Experienced London estate agent, Karl Knipe, with over 30 years' experience in the industry, is hosting LGR's series, "The Property Show". Karl, partner of Kings Group (15 branches across North London, East London, Hertfordshire and Essex), discuss a variety of issues each month, ranging from house prices and Brexit to stamp duty, and the buy-to-let market, as well as, wealth management. Karl is joined by experts of various sectors in the industry.
Our specialist guests in the sixth one-hour episode;
John Toth; Partner in the Trusts and Estates Team at Ashfords solicitors. John advises on many aspects of private client work such as the creation of Wills, lifetime tax planning for individuals, preparation of Lasting Powers of Attorney, also advises the estates of deceased persons on the best way to realise assets, negotiates with HMRC to ensure that the correct amount of Inheritance Tax is paid, drafts new Trusts and advises Trustees on complications which arise with their trusts and how to remedy them.
Simon Todd; a Chartered Tax Adviser with over 25 years in professional practice. Prior to founding, Engaging Tax, he was Head of Tax with the wealth management arm of a premier global wealth management firm. Simon has a thorough and detailed understanding of Income and Capital Gains Tax Planning and structuring for UK resident individuals, as well as those who are resident but non-domiciled. Simon's particular expertise is managing the past, present and future tax consequences of esoteric investments such as film finance partnerships and a variety of property based structures.
Bobby Bhuiyan; Financial Adviser for Thomas Oliver LLP, part of the Openwork network. Bobby protects and enhances his clients' wealth, helping them to find solutions to their financial needs. He specializes in 4 key areas; Tax efficient investment planning, Lending services, Protecting clients assets with Trust planning and life insurance, Connecting people who need specialist advice.
Wednesday 3rd October 2018 at 7:00 pm
DON'T MISS IT! CALL IN 
Article written by London Greek Radio