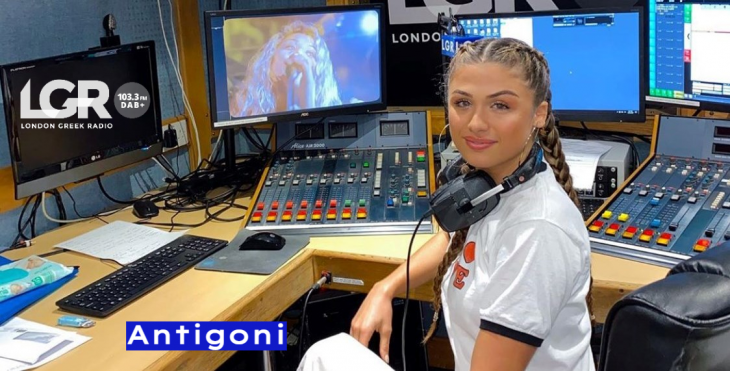 London Cypriot singer-songwriter Antigoni Buxton has entered the "Love Island" villa on ITV 2's reality dating programme.
The series, which is filmed in Mallorca, introduced Antigoni on Wednesday 22nd June.
Show bosses had teased the new "bombshell" twist on the previous night's cliff-hanger.
The 26-year-old North London musician is a long-time friend of LGR and she impressed her fellow islanders, with one islander heard saying that Antigoni is a "ray of sunshine" and "on the friendship level she is lovely".
It appears that her warmth and radiance also won her TV admirers with the programme's fervent fan-base.  Many avid viewers of the show had taken to Twitter to applaud her "good-natured vibes and positive energy", instantly becoming a fan favourite of the show.
Antigoni was signed to Island Records when she was just 20 years old and has gone on to have a successful start to her music career.
Her latest single "Hit List" released last month, mixes R'n'B with Greek/Cypriot elements and has already entered London Greek Radio playlist in recent weeks.
Antigoni is the daughter of celebrity chef Tonia Buxton, who's a regular guest on "Sunday Bunch" on TV.
Tonia is also the consultant chef at The Real Greek restaurants and the presenter of "My Greek Kitchen" and "My Cypriot Kitchen" on the Discovery Channel.
Antigoni previously dated 2018 contestant Jack Fowler for a few months, but their romance fizzled out.
Prior to dating Jack, Antgoni was in a nine-year relationship with her childhood sweetheart but they split so that she could focus on her music.
You can follow Antigoni on Instagram @antigoni, where she already boasts almost 140,000 followers.
It's worth reminding everyone about something that Cypriots already know, and that is that the original "Love Island" is of course, Cyprus, the island of the Greek Goddess of Love, Aphrodite!
The only official FM-licensed Greek Station in the UK. 103.3 FM in London | On DAB+ in London, Birmingham & Manchester | Online at lgr.co.uk | On your smart speaker 'Play London Greek Radio', and on LGR's App available free on the Apple and Play Store.
Bringing you closer to your culture.
Article written by Tony Neophytou

London Greek Radio Top 40 Songs.
The definitive Chart rundown this month May 2022.
This month's biggest, most in demand hit songs.
1 Helena Paparizou x Antique – Ti Ti (+ TimeSwap Remix)
2 Konstantinos Argiros – Eleftheros [NEW]
3 Nikos Vertis – Zise
4 Petros Iakovidis & Josephine – Geia Sou [NEW]
5 Andromache – Ela
6 Nikos Oikonomopoulos – Pali Gyrisa
7 Eirini Papadopoulou Feat. Nikos Koklonis – Leei Leei Leei
8 Giorgos Papadopoulos & Elkana Marziano – Katalaveno (Katn Alenu)
9 Michalis Hatzigiannis & Tamta – Ekdromi
10 Anastasia – Amarties
11 Panos Kiamos – Na Tragoudo Pos S' Agapao
12 Ivi Adamou – Agoraki Mou
13 Aspa – Staxti [NEW]
14 Katerina Liolou – Mi Rotas Tous Allous [NEW]
15 Amanda Georgiadi Tenjford – Die Together
16 Giorgos Lianos – Kathe Mas Stigmi Mia Giorti
17 Kaiti Garbi & Giannis Ploutarhos – Tryferotita
18 Sasa Basta (Feat. Knock Out) – Peftoun Vrohi Ta Goal [NEW]
19 Josephine – Tilefono
20 Panos Kiamos – Tha Me Zitas (Tha Apousiazo) [NEW]
21 Giorgos Kakosaios – Ego S' Agapisa
22 Giorgos Livanis – Osa Eho Zise
23 Nikos Vertis – Pou Na Gyrnas
24 Josephine – Kyma Mou [NEW]
25 Haris Varthakouris – Me Poio Dikaioma
26 Nikiforos – Zo I Eho Pethani [NEW]
27 Stefanos Pitsiniangas – Mi Mou To Halas [NEW]
28 Giorgos Sabanis – Ase Me Na Se Proseho
29 Giorgos Mazonakis – Par' Ta Ola Dika Sou
30 Christos Santikai – Ena Tilefono
31 Anastasios Rammos – Aliteia
32 Giorgos Livanis – Meta Tis 12
33 Charis Savva – Lene Lene [NEW]
34 Fani Drakopoulou – Hamos [NEW]
35 Natasa Theodoridou – Yparho Gia Sena
36 Nikos Oikonomopoulos – Apo Erota
37 Giannis Arvanitidis – Trelos Gia Sena
38 Giorgos Giannias – Koukla Se Vitrina [NEW]
39 Eleni Hatzidou – Tremo Olokliri [NEW]
40 Christos Cholidis – Sta Patomata [NEW]
London Greek Radio LGR was launched in November 1989 and is the first and only commercial Greek radio station on FM in the UK.

Bringing you closer to your culture.
103.3 FM London
DAB+ Birmingham, London, Manchester
website: lgr.co.uk
London Greek Radio App (free to download)
Smart Speaker, 'Play London Greek Radio'
Article written by London Greek Radio