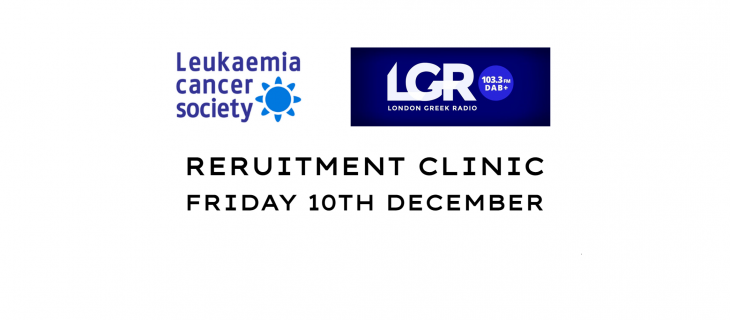 Barnet Recruitment Drive, on behalf of The Leukaemia Cancer Society on Friday 10th December between 6:30pm to 8:30pm.
If you are aged between 16-to-55-year-olds have a simple cheek swab taken. 
Please step forward, there aren't many Greeks/Cypriots like Alex of mixed heritage (half English and half Greek) on the register and for that reason Alex hasn't found a match so far. If you can't get there, you can have a kit sent to your home. It's so easy and takes next to no time. This simple swab could save Alex's life. 
Southgate Hockey Club, Snakes Lane, EN4 0PS (Off Bramley Road) 
If you can, please do your part to help. 
It's Alex's last chance to live and at 24 he totally deserves that chance.
https://www.leukaemiacancersociety.org/become-donor 
Urgent Stem Cell Transplant Needed to Save 24-Year-Old (Article)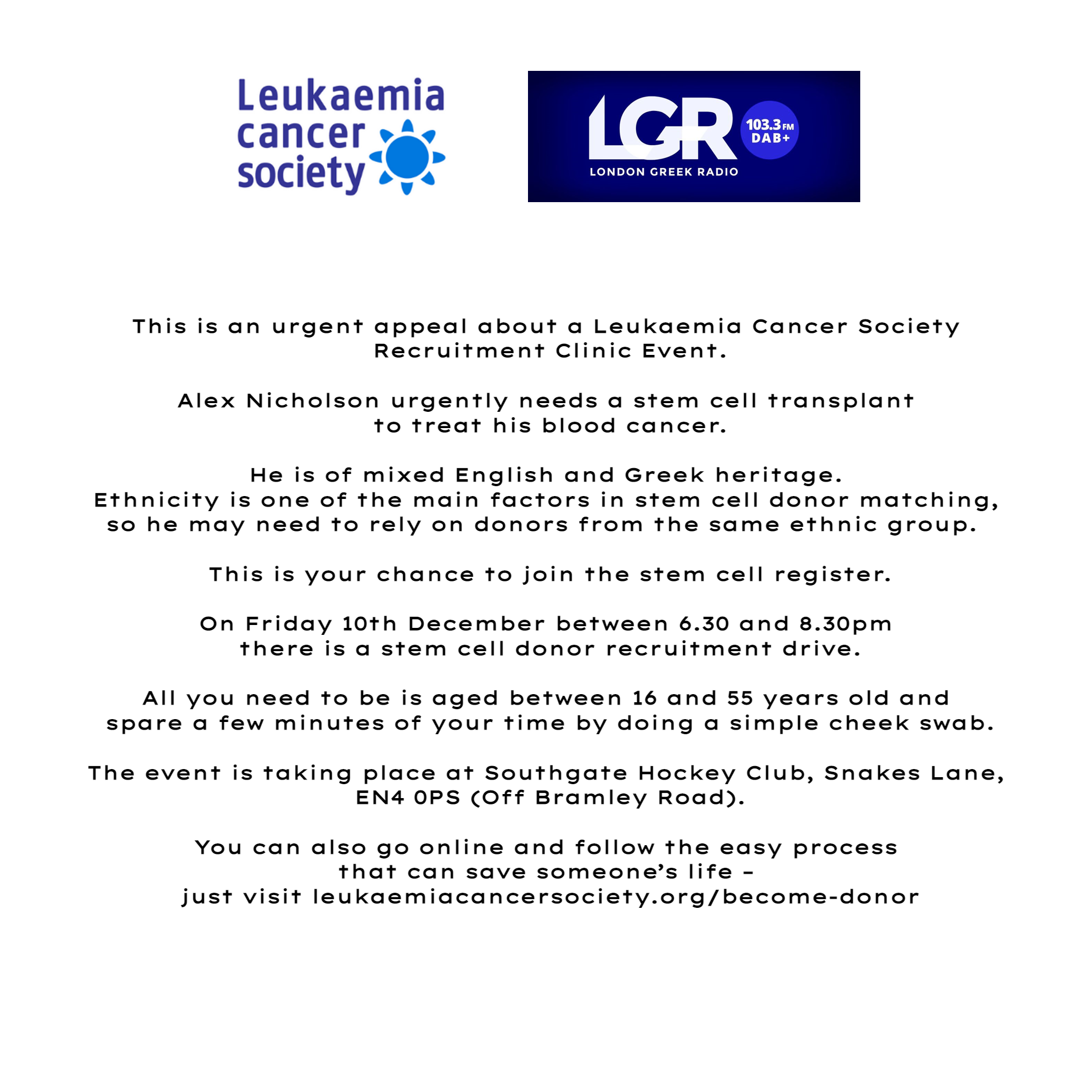 Article written by London Greek Radio

Top 40 Songs. The definitive chart rundown this month, November 2021.
This month's biggest, most in demand hit songs.
1 Giorgos Kakosaios – Min Tis Peite
2 Kaiti Garbi – Ama Fygo [NEW, Exclusive, 1st UK airplay]
3 Antonis Remos – Otan Se Rotisane
4 Natassa Theodoridou – Iparho Gia Sena [NEW]
5 Sarbel – To Party Archizei
6 Dimitris Basis – Kathe Mera
7 Thodoris Ferris – Hilia Kommatia
8 Josephine – Ta Kalytera Paidia
9 Thodoris Ferris – Chilia Kommatia
10 Konstantinos Christoforou – Syngnomi [NEW]
11 Eleni Foureira – Aeraki
12 Nikos Oikonomopoulos – Apo Erota
13 Konstantinos Pantelidis – Meine
14 Konstantinos Argiros, Rack – Telika
15 Nikos Oikonomopoulos – Proti Thesi
16 Onirama, Dimitra Galani – Koutsi Kithara [NEW]
17 Petros Iakovidis – Mi Thymoneis
18 Stelios Rokkos, Vaslis Karras, Melina Aslanidou – Posi Monaxia [NEW]
19 Loukas Giorkas – Gia Tin Ellada
20 Konstantinos Christoforou – S' Ena Tetarto [LGR Ident]
21 Natassa Theodoridou – Paradothika Se 'sena
22 Stan, ILLeOo – GIa Dyo
23 Ilias Vrettos – Fysixe Erotas Vorias [NEW]
24 Nikiforos – Mia Nyhta Thelo
25 Michalis Hatzigiannis – Kanenas Monos
26 Eleftheria Arvanitaki – Kleidaries [NEW]
27 Giorgos Sampanis – Kati San Asteri
28 Kaiti Garbi, Dionysis Schoinas – Atoflio Chrysafi
29 Petros Iakovidis – Tatouaz
30 Christos Cholidis – Agapi Tha Pei [NEW]
31 Christina Salti – To S' Agapo [NEW]
32 Melisses – Misi Kardia
33 Nikos Apergis – Mi Me Paidevis
34 Ioulia Kallimani, Stamatis Gonidis – Gynaika Einai
35 Konstantinos Mamalis – Hamos [NEW]
36 Konstantinos Argiros – Paraskevi Proi
37 Giorgos Sampanis – Tipota
38 Michalis Hatzigiannis – Horevo
39 Giorgos Livanis – Thelo Ki Alla
40 Panos Kiamos – Eipa Ki Ego
London Greek Radio. Est. 1989.
On 103.3 FM in London, on DAB+ Digital Radio in Birmingham, London, & Manchester, online at lgr.co.uk, on your mobile via the new and improved App, and on your Smart Speaker.
Bringing you closer to your culture
The authenticity of a London Greek Radio station with its LGR family which is both London-based and home-grown with its Greek and Cypriot personalities.
Article written by London Greek Radio