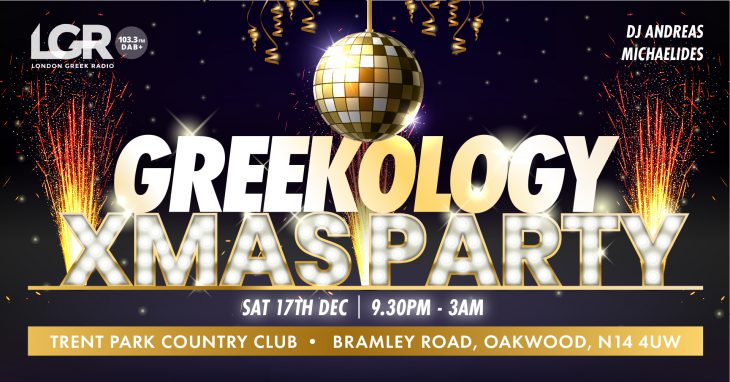 LGR Club Nights returns on Saturday the 17th of December for a Christmas Special at the Country Club Trent Park.
We are hosting a spectacular Christmas party on Saturday 17th December featuring DJ Andreas Michaelides mixing Greek & English hits, including the best Modern Laika, Greek Club, Greek Classics and Zeimbekika alongside all the biggest LGR hits of the decade.
As always, there will also be surprise guests live in-person at The Country Club from 9:30pm 'til late on what's expected to be a real Christmas extravaganza!
And we now announce that special guests on the night include Mixalis Theodosiou with live band and Eleni C with dancers!
If you're really quick, there's some reduced limited early-bird tickets, which are available whilst stocks last!
So make sure you've got your ticket secured today (via) the link here.
This is a strictly over-18's night and physical photo ID will be required for entry. Unfortunately, only physical proof of over-18 ID will be accepted.
LGR's Christmas Greekology Club Night at The Country Club, Trent Park N14 on Saturday 17th December.
LGR, the radio station you can trust, since 1989.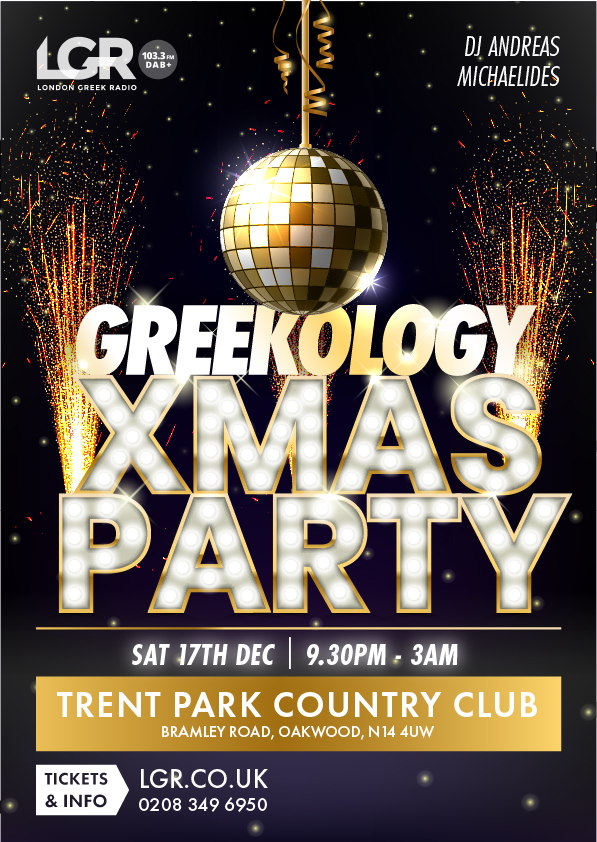 Article written by London Greek Radio

London Greek Radio Top 40 Songs.
The definitive Chart rundown this month October 2022.
This months biggest, most in demand hit songs.
1 Giorgos Mazonakis feat. Arash – Tora Tora (Boro Boro)
2 Konstantinos Argiros – Afou Se Vrika De S' Afino
3 Nikos Vertis – Zise
4 Ilias Vrettos – Os To Apeiro
5 Konstantinos Argiros feat. Light – Iliovasilema
6 Panos Kiamos – Tha Me Zitas (Tha Apousiazo)
7 Katy Garbi feat. Thodoris Ferris – Ola Sta Katalogizo
8 Dimos Anastasiades – S' Agapao Akoma
9 Giorgos Kakosaios – Kane Mas Tin Hari
10 Nikos Oikonomopoulos – Oso Tipota Se Thelo
11 Giorgos Papadopoulos & Elkana Marziano – Katalaveno (Katn Alenu)
12 Petros Iakovidis – Odos Tsimiski
13 Giorgos Sabanis – Gennimeni
14 Konstantinos Argiros – Eleftheros
15 Anastasia – Ligo Ligo
16 Josephine – Kyma Mou
17 Eleni Foureira x Dj Bobito (Ft. Ayman) – El Telephone
18 Anna Vissi feat. Daphne Lawrence – Aima
19 Nikos Makropoulos – Den Pierazi [NEW]
20 Ivi Adamou – Agoraki Mou
21 Josephine – Tilefono
22 Helena Paparizou x Antique – Ti Ti (+ TimeSwap Remix)
23 Katerina Liolou – Mi Rotas Tous Allous
24 Nikiforos – Pes Mou Pou Tha Me Pas [NEW]
25 Petros Iakovidis – Esena Mono [NEW]
26 Christos Mastoras – Ego Gia Dyo (20 Hronia Eleana Vrachali, Paidi Diko Sou) [NEW]
27 Stamatis Gonidis – Esy Rotas
28 Nikos Apergis & Malu – Poso Poso [NEW]
29 Michalis Hatzigiannis – Esi Ise Pano Ap' Ola [NEW]
30 Helena Paparizou x Marseaux x Joanne – Katse Kala (Arcade Remake) [NEW]
31 Triantafyllos – Se Pairno Gia Na Sou Po
32 Aspa – Ela [NEW]
33 Morfoula – Esena Mono
34 Giorgos Sabanis – Poios Ticheros [NEW]
35 Ivi Adamou – Rikse Mou [NEW]
36 Natasa Theodoridou – Den Ntrapikes
37 Vasilis Karras feat. Giorgos Kakosaios – Foitites
38 Josephine – Pirkaya [NEW]
39 Nafsika – Misi Kardia [NEW]
40 Panos Psaltis – Tha Vreis Pollous
103.3 FM London
DAB+ Birmingham, London, Manchester
website: lgr.co.uk
London Greek Radio Mobile App (free to download)
On Smart Speakers, 'Play London Greek Radio'
LGR, the radio station you can trust, since 1989.
Article written by London Greek Radio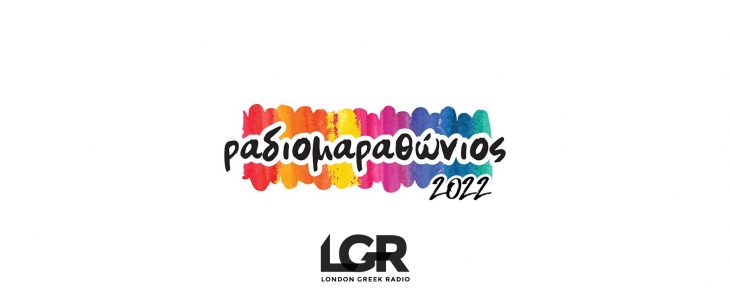 A charity song has been recorded for Radiomarathon 2022, the annual children in need appeal in Cyprus.
The song, 'I Leoforos Tis Zois' is sung by Andros Andreou, with music by Stalo Georgiou and its lyrics by Vasilis Panayi, a presenter and producer at London Greek Radio.
Its musicians are Antonis Maestros, Nektarios Kouris (violin), Andros Andreou, Nektarios Kouris (lute), Andros Andreou (guitar), and Savvas Ignatius (piano).
The track was recently produced at Efthivoulos Theocharous Music Productions and its official music video was released earlier this month.
A Radiomarathon Centre is located in Enfield, North London, which helps young adults and children with learning difficulties, which has been supported by LGR over the years, in its fundraising activities.
For further information about the centre and its activities, radiomarathon.co.uk.
To find out more about Radiomarathon in Cyprus, head over to radiomarathonios.org.
LGR, the radio station you can trust, since 1989.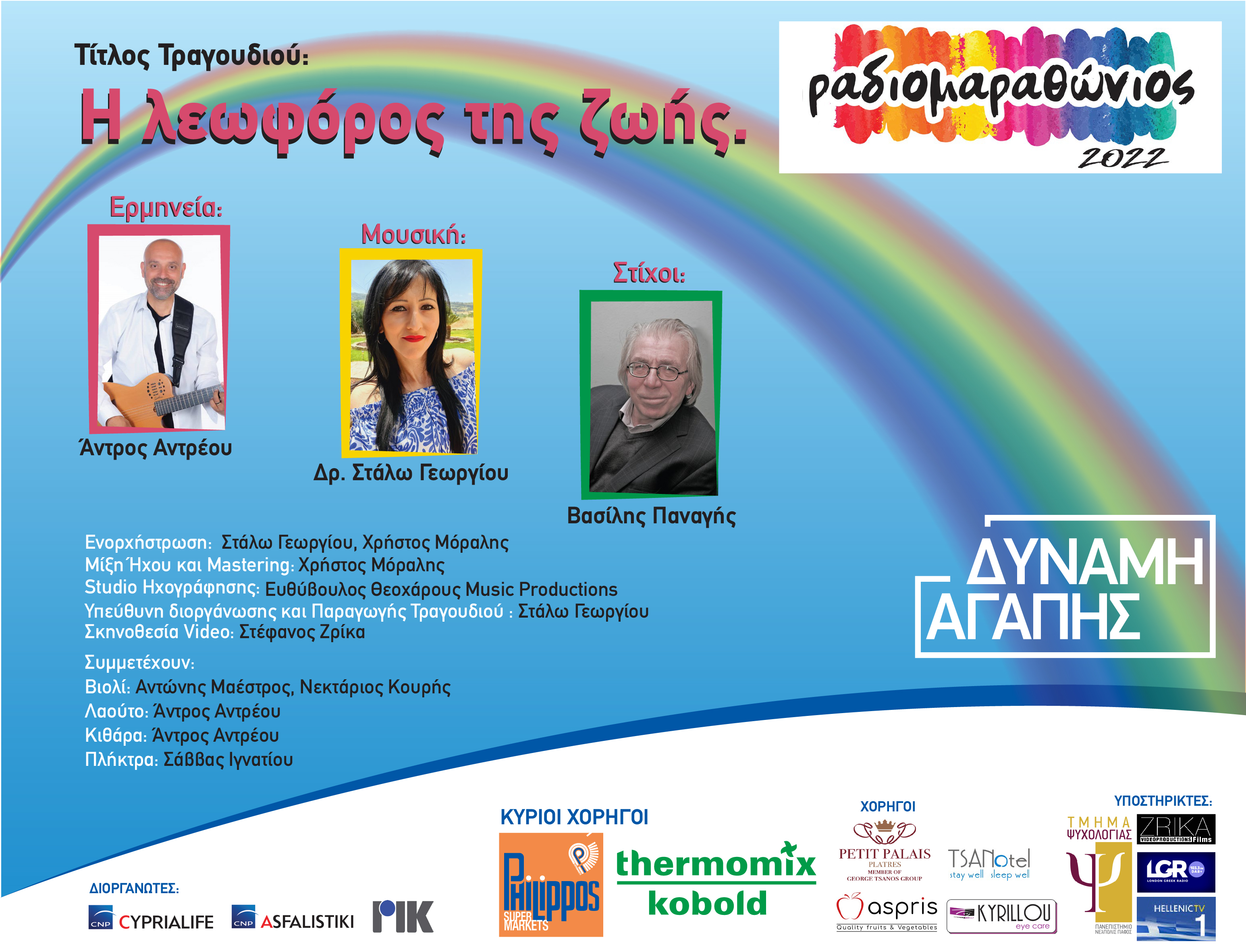 Article written by London Greek Radio