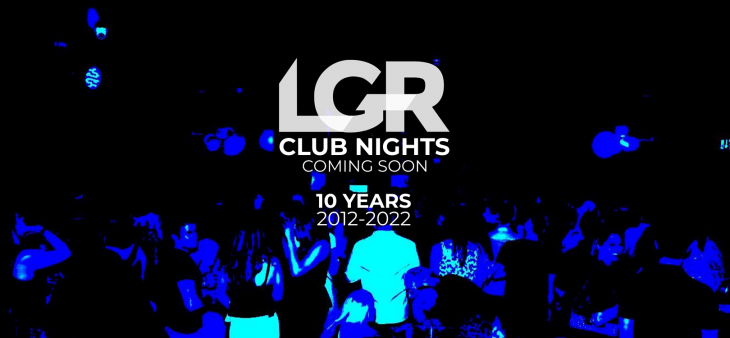 LGR Club Nights coming soon…
One of the biggest Greek club nights in North London, which is celebrating its tenth year is back soon.
Its been two years since LGR's 30th anniversary bash as a FM-licensed station at The Country Club, Trent Park, on November 2019.
LGR launched its debut Club Nights on Thursday 19th April 2012, with Cypriot singer Ivi Adamou, Cyprus' former Eurovision entrant that year. Her performance, with London-Cypriot act Kyriacos Georgiou had wowed over 500 club-spectators…
LGR event DJs and music acts have performed throughout its ten-year reign. The leading-stars-of-Greek music Stan and Kelly Kelekidou, Giorgos Mais, Valentinos Valeas and home-grown talented, G3orge-e, Mixalis Theodosiou, Elizabeth Chapman, and Iphigenia Loucaides have all featured.
LGR Club Nights are celebrating 10 years. 2012 – 2022.
Check back for all of the latest information about our next event, which is coming real soon!
LGR 103.3 FM London, lgr.co.uk, or DAB+ in Birmingham, London, Manchester, via LGR App and smart speaker, "Play London Greek Radio"
Article written by London Greek Radio

Top 40 Songs.
The definitive chart rundown this month March 2022.
This month' biggest, most in demand hit songs.
#LGR the UK's official Greek music station on FM & Digital.
1 Giorgos Lianos – Kathe Mas Stigmi Mia Giorti
2 Anastasia – Amarties
3 Giorgos Giannias, Giorgos Papadopoulos – Vale Fotia
4 Konstantinos Argiros – Tipota Esi
5 Eirini Papadopoulou feat. Nikos Koklonis – Leei Leei Leei
6 Natasa Theodoridou – Yparho Gia Sena
7 Panos Kiamos – Na Tragoudo Pos S' Agapao
8 Nikos Oikonomopoulos – Pali Gyrisa [NEW]
9 Anastasios Rammos – Aliteia
10 Haris Varthakouris – Me Poio Dikaioma [NEW]
11 Loukas Yiorkas – An M' Agapas [NEW]
12 Kaiti Garbi – Ama Fygo
13 Christos Sanitaki – Ena Tilefono
14 Giorgos Sabanis – Ase Me Na Se Proseho
15 Antonis Remos – Ola Gia Sena
16 Christos Menidiatis – Erotevmenos Mazi Sou
17 Christos Dantis – As Pan Stin Eyhi Ta Palia
18 Giorgos Sabanis – Kati San Asteri
19 Petros Iakovidis – Asto [Radio Edit]
20 Nikos Vertis – Pou Na Gynas
21 Fani Drakopoulou – Hamos [NEW]
22 Kaiti Garbi, Dionysis Schoinas – Atoflio Chrysafi
23 Ilias Vrettos – Kala Pige Auto
24 Giorgos Livanis – Osa Eho Zise
25 Nikos Makropoulos – Eho Erota Mazi Sou Megalo
26 Konstantinos Argiros – Molis Htes
27 Peggy Zina – Psyhi Tis Agapis
28 Giorgos Kakosaios – Ego S' Agapisa [NEW]
29 Giorgos Papadopoulos & Elkana Marziano – Katalaveno (Katn Alenu) [NEW]
30 Andromache – Ela [NEW]
31 Amanda Georgiadi Tenfjord – Die Together [NEW]
32 Michalis Hatzigiannis & Tamta – Ekdromi [NEW]
33 Nikos Vertis – S' Agapao
34 Despina Vandi – Pou Les
35 Stelios Legakis – Poios
36 Alcatrash – Kapoios Kapou S' Agapaei
37 Demy – Ela [Radio, Edit]
38 Konnie Metaxa – Aman
39 Giannis Arvanitidis – Trelos Gia Sena [NEW]
40 Dimitris Basis – Kathe Mera
London Greek Radio. Est. 1989.
Number #One Greek hits station on FM & Digital
103.3 FM London
DAB+ Birmingham, London, Manchester
website: lgr.co.uk
London Greek Radio App (free to download)
Smart Speaker, 'Play London Greek Radio'
Article written by London Greek Radio