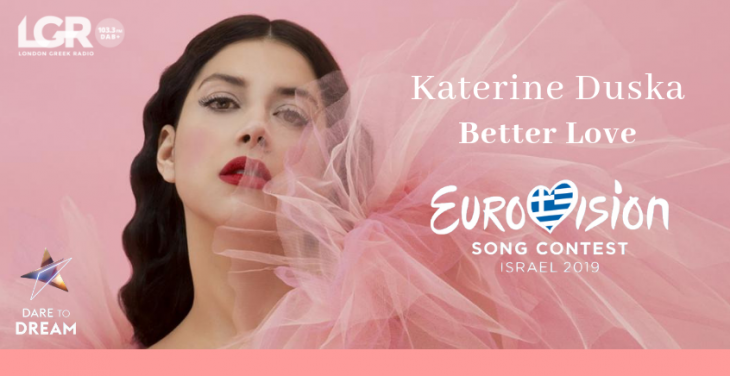 Canadian-Greek indie-pop artist Katerine Duska co-writes Greece's entry, 'Better Love' with Greek-British musician Leon of Athens and Scottish songwriter David Sneddon.
Greek broadcaster ERT confirmed earlier this year that Ms Duska would fly the Greek flag at the Tel Aviv Expo for the upcoming Eurovision Song Contest in Israel.
Montreal-born singer-songwriter, Katerine, 29, has recorded the song in London with producer and friend Phil Cook.
Greek ERT TV bosses formed a working committee to choose the act for this year. Chairman Dimitris Papadimitriou labelled Katerine (translated), "A Greek artist and talent with immense quality and one that is strongly indicative of indie-pop music."
'Better Love' features strong vocals and that trademark soulful rasp, with melodic hooks swirling beneath the orchestral drums.  This is a very original choice in terms of a Greek Eurovision entry and it's a song that is uplifting and anthemic.
The well-constructed tune is a very strong competitor this year with a catchy chorus and hooks, which excitingly build-up as the three-minute song captivates.
The songstress has a unique and distinctive voice and she doesn't hold back in this year's Eurovision line-up.  Katerine provides a strong vocal hook on top of an anthemic chorus to 'Better Love' and the vocally-impressive singer excels in her performance.
The mid-tempo track is current indie-pop and radio-friendly; one that has already entered the London Greek Radio, (LGR), playlist.
The 'Better Love' which the song refers to is the eternal quest for a higher love, one which is deep, unconditional and unapologetic. The lyrics about love and empowerment most people and no doubt the listener can relate to it on some level.
Her soaring high-notes combined with strong melodic hooks give the tune that feel of a "competitive" package and a possible game-changer, as Greece embarks on a comeback to the Eurovision final, after a shock exit at the semi-finals last year.
LGR's Tony Neophytou said, "I think that this is a great Eurovision competition song, one that is a sure-fire qualifier and potentially a Top 10 in the final."
The music video relies on strong pop-art visuals with pink, light-colours. The creative woman behind this video is Efi Gousi and she manages the staging in Tel Aviv.  Katerine Douska wears pink reinforcing the theme of purist romanticism and a "better love".  The video is a females-only cast looking very disciplined and artistic.
Katerine said that the staging is planned to compliment the "pop-art" atmospheric concept and she will be joined on stage by backing-vocalists Erasma Markides and Eleni Ponzantzidou along with dancers Dimitra Vlachou and Fania Grigoriou.
Ms Duska was raised in a Greek home listening to esteemed composers Mikis Theodorakis, Manos Hatzidakis and Mimis Plessas, spending countless hours as a young teen tuned into soul, pop and R&B.  She has a background in classical music where she studied classical guitar and interpreting Arias and Lieder, venturing into 'experimental song-writing' influenced greatly by the indie-pop and Neo-soul genre.
Katerine studied law at the Kapodistrian University of Athens, only to realise that music was what she actually wanted to pursue professionally.
Katerine rose to indie stardom in 2014 with the hit, 'One in a Million' and her cover of the Arctic Monkeys, "Do I Wanna Know", which has reached over a million views on YouTube.
Her 2015 debut album 'Embodiment' won critics over with the lead track "Fire Away", featuring prominently in a Nescafe Canada advertising campaign.
Greece competes in the Eurovision first Semi-Final which airs on Tuesday 14th May at 8pm GMT.
She performs in the running order of 17 at slot number 16.
The Eurovision Song Contest Final is broadcast on Saturday 18th May at 8pm GMT.
For all of your Eurovision news on Greece, make sure you regularly check back to lgr.co.uk and tune into LGR to hear 'Better Love' this Eurovision season.
London Greek Radio wish Katerine and the Greek delegation the very best of luck in the competition.
Article written by Tony Neophytou
LGR Club Nights is back with another massive party at the Country Club Trent Park!! Join us on Saturday 11th May for another unforgettable party.
♫ ♪
Our DJs Magis & Chris Theoharous will be on the decks, kicking off summer 2019 in true Greek style!
Doors open at 9pm and the party will continue through till 3am.
♫ ♪
They will be mixing Greek & English hits, all night long. Fusing all the best Modern Laika, Greek Club, Greek Classics and Zeimbekika alongside all the biggest English hits of the decade.
♫ ♪
For a limited time only, advance tickets are just £5 per person. Standard tickets are £10 per person. You can purchase yours using the ticket link below, 0r over the phone 0208 349 6963.
For table reservations please contact Vassoula at London Greek Radio on: 0208 349 6963.
♫ ♪
Additional information:
Please note this is a strictly over 18s event. Dress Code: Smart Casual (Designer trainers are acceptable).
Address: Bramley Road, London N14 4UW
Article written by London Greek Radio