The first-ever Greek Arts Festival takes place, this week at Millfield Theatre. The 3-day event, set to run from 28th to 30th June, promises to be "an amazing mini-week of Greek and Cypriot culture and entertainment!"
Talent contest, children's play, paintings, books and other exhibitions. Also Byzantine, Greek and Cypriot traditional and folk music by professionals and participation of students from Greek Community schools.
Wednesday 28th June at 7pm
Dances from Walker Greek School. Traditional music & songs.
Byzantine Music brought to you by the School of Byzantine Music of our Holy Archdiocese of Thyateira and Great Britain, under the direction of Father Iosif Paliouras.
A children's play coming from Athens by Evaggelia Gkioni "Mia grammi ke mia telia" ("Μια γραμμή και μια τελεία").
A children's theatrical play by Omilos Eksipiretiton (The Servers' Society), Athens, Greece. If you search the Fairytale Map, two ice creams up and one somersault to the right, somewhere near Wonderland, you will discover a Land truly worthy of wonder. It is the Great Land of WoWs! It is there that our hero, the Little Miracle, lives. One morning, the Little Miracle wakes up from a really strange dream… what dream did it have? And what has our hero been seeking to find since then? Does anyone know the answer?
The Little Miracle's adventure will lead it to the House of the Wise Man. Will our hero go in? And anyway, what role does the Fairy Godmother play in all this, and what about that stumbling, blundering Exclamation Mark? It is all this and much more that you will discover in our play.
Thursday 29th June at 7pm
Talent Contest "Show Me Your Talent" (singing, dancing, comedy, acting, magic, or any other talent you have). We will find talent through local newspapers and social media such as Facebook, Instagram, Twitter, TikTok, and YouTube. The Lewis Sisters and Elizabeth Chapman have been confirmed as the judges, on the night.
PRIZES ON THE NIGHT
1ST PRIZE
1 WEEK HOLIDAY FOR 2 IN CYPRUS
FIGHTS AND ACCOMMODATION INCLUDED
SONG PRODUCTION BY LGR TEAM
TV AND RADIO EXPOSURE
2ND PRIZE
2X FIGHTS TO CYPRUS FOR 1 WEEK
SONG PRODUCED BY CYPRUS COMPOSER – PRODUCER
TV AND RADIO EXPOSURE
3RD PRIZE
A MEAL FOR 4 AT A TOP LOCAL GREEK RESTAURANT
TV AND RADIO EXPOSURE
All Contestants will perform on the evening and judges will give professional industry feedback then it's your chance to vote.
Winners will be selected by judges and Audience votes.
Friday 30th June at 7pm
Dinner & Dance. Live orchestra music with Mixalis Theodosiou, Giorgos Yerasimos, Sophia Pechlivani, Mihalis Minas (Bouzouki), & Spyros Paisios (keyboard).
Tickets £50 including a 4-course meal.
MENU
STARTERS:
mezze
A selection of traditional Greek dips, bread and olives.
MAIN COURSE:
Lamb kleftiko
Traditional Slow roasted lamb shank scented with cinnamon and herbs served with delicious Cyprus potatoes
Horiatiki salad
The classic Greek salad – served with feta
VEGETARIAN AND VEGAN OPTION
Moussaka
A popular Greek dish with layered roasted vegetables topped with a flavoursome sauce and oven baked for Perfection.
Horiatiki salad
The classic Greek salad
DESSERT:
Loukoumades
Freshly made crispy dough balls
Served with Tea or coffee
FRESH FRUIT PLATTER
If you are vegetarian or vegan please let us know by emailing nina@platinumperformingarts.co.uk
The producers have the right to make changes to the programme & cast if needed.
There will be paintings, books & photographic exhibitions during the festival.
Head on over to the Millfield Theatre website and secure your tickets now before they sell out! Whether you're a die-hard Greek and Cypriot culture enthusiast or simply looking for a fun night out, the Greek Arts Festival 2023 has something for everyone. Don't wait, book your tickets today and join us for a cultural extravaganza that you'll never forget!
Media sponsors: LGR & Eleftheria Newspaper
Gold sponsors: Built it Builders Merchants and A&P Skips
Supporters: Autumn Gardens and Anastasia Lodge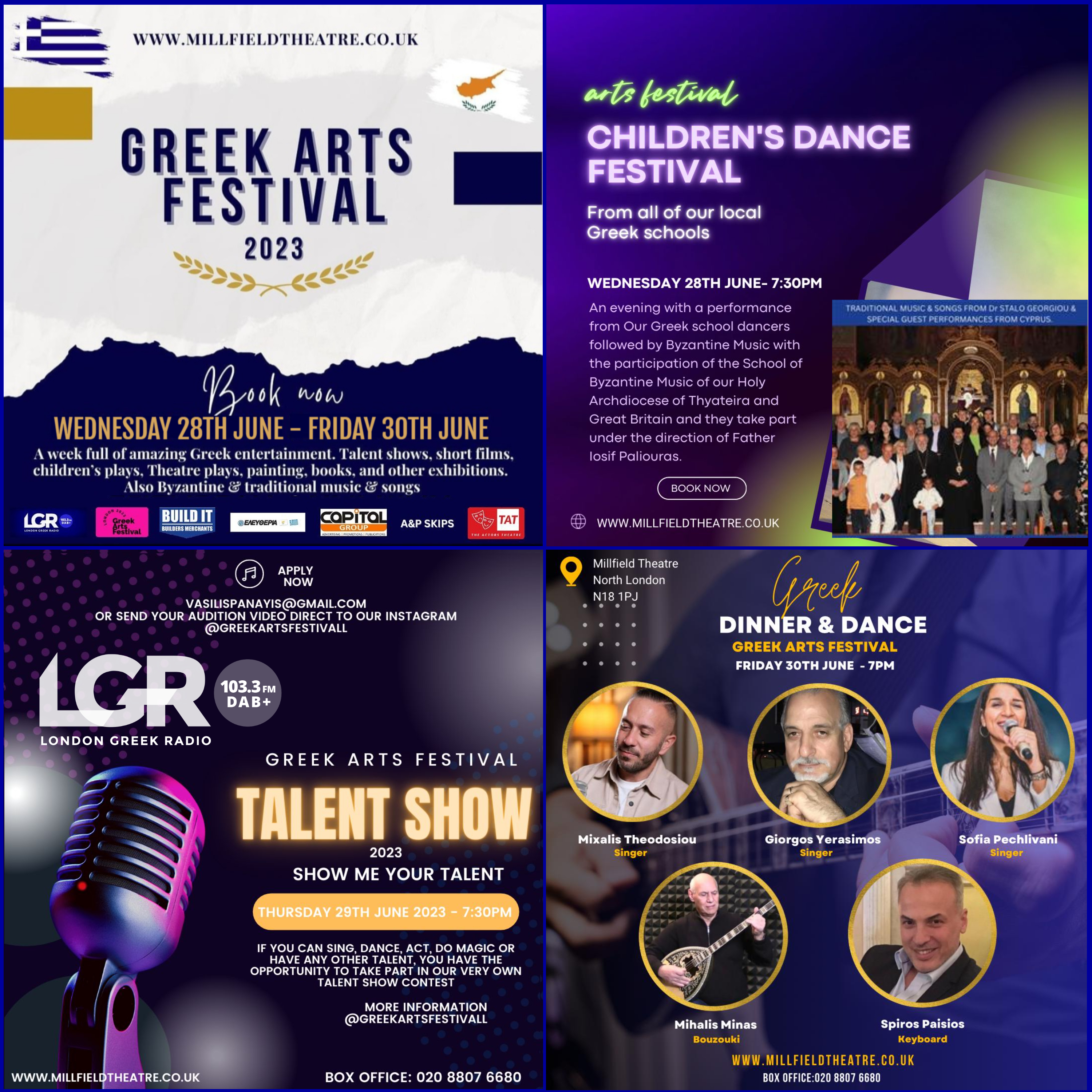 Article written by London Greek Radio