CYPRIOTS LAUNCH ONLINE PLATFORM FOR COVID-19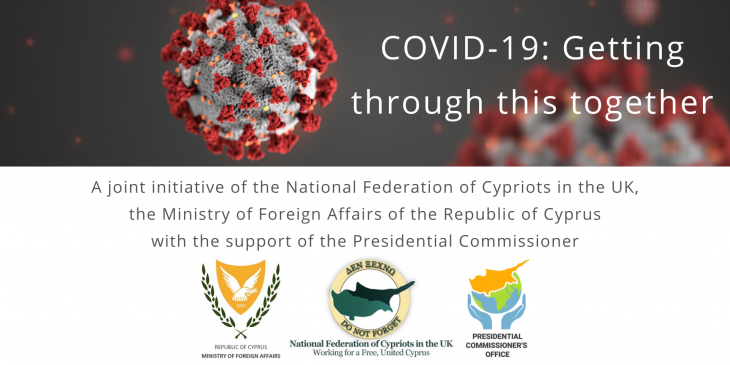 The National Federation of Cypriots in the UK in partnership with the Ministry of Foreign Affairs of the Republic of Cyprus, have compiled useful support information for our UK Cypriot diaspora and Cypriot nationals currently in the UK. This initiative is also supported by the Presidential Commissioner of the Republic of Cyprus.
We will continue to update this page, so if you know a service that we should be including please let us know, by email: enquiries@cypriotfederation.org.uk. Also, subscribe to our mailing by clicking here to get our regular updates.
London Greek Radio – working together with partners, businesses and organisations to support our communities.
Shopping/delivery support
If you are elderly, or vulnerable, and need help getting food or essential supplies, email us at enquiries@cypriotfederation.org.uk, or call us on 0208 4459999. We will put you in touch with a team of young volunteers, organised by NEPOMAK UK, who can help you.
Areas covered include North, Central & East London; Manchester; Canterbury; Colchester; Glasgow; Hertfordshire; Ipswich; Harlow; Bury St Edmunds Newmarket; Red Lodge; Kentford; Stansted; Bishop's Stortford; Saffron Walden; Harlow; Buntingford; Hertford; Birchanger; and Newport. These areas depend on volunteer availability, so may increase as we find more volunteers. Please do check back if you cant see your area on the list.
Article written by London Greek Radio