Cyprus President Nicos Anastasiades has said that the Greek Cypriot and the Turkish Cypriot side have agreed on a definition as regards the issue of the legal domicile and exercising the four EU fundamental freedoms by the citizens of a future federal Cyprus.
In statements to the press after his four-hour long meeting on Tuesday with the Turkish Cypriot leader Mustafa Akinci, in the framework of the UN-led negotiations on the Cyprus problem, Anastasiades said that they also discussed issues concerning the effective participation of Turkish Cypriots, adding that differences still remain on this issue.
There has been however an agreement on a definition as regards the legal domicile and the safeguarding of the four freedoms, "however some issues remain pending as certain details have to be clarified," he added.
"There is a problem as they raise an issue relating to the regulation of the right to property acquisition," the President said, recalling that this issue was first raised in Geneva. He said that the discussion will continue to find ways to overcome this problem. "I hope that we will reach a conclusion on this, if the other side has a constructive approach," he added.
Anastasiades said that even though the right of abode has been determined – the right to work, the right to settlement, the right to property acquisition etc – "nevertheless there are certain differences, also concerning the issue of those who will be entitled to be considered citizens with legal domicile."
The President said that they also agreed that during the EBRD 2017 Annual Meeting and Business Forum that will take place here, several international organizations will discuss issues concerning the post-solution economy.
He also noted that on May 10 the two leaders will meet with the head of European Commission President Jean Claude Juncker`s office to review the progress achieved at the Ad hoc Committee dealing with the Turkish Cypriots` harmonization.
Anastasiades said that this issue very important in that it will show whether the Turkish Cypriots will be able to harmonise fully in case of a political settlement, to allow the acquis communautaire to apply from day one of a solution.
Asked if the issue of the four freedoms has to do with the Turkish citizens, Anastasiades replied negatively, noting that it concerns the citizens of a future federal Republic of Cyprus.
Responding to other questions, Anastasiades said that the percentage of 20% concerning the political rights has been agreed, adding that "what we have said is that the right to free movement, settlement, work and acquiring property does not automatically entitle someone to have the right to legal domicile."
"Someone will have to decide that he will stay somewhere legally. Their number may rise to 20% (Greek Cypriots in the Turkish Cypriot constituent state and Turkish Cypriots in the Greek Cypriot constituent state) or if it exceeds this percentage then weighted voting will apply at local elections," he added.
Invited to say if he believes that the Geneva Conference on Cyprus may proceed after today`s meeting, President Anastasiades said that "there are still many issues to be examined, and I have made it clear that it is not enough to have an agreement on the definition of the right to exercise the four freedoms."
Anastasiades said that he suggested that all limits should be exhausted by the end of May-mid June where this is deemed necessary, and if the necessary progress is achieved, then they shall proceed with a Conference in Geneva.
He noted that the Greek Cypriot side is not against such a Conference since it is Turkey which will have to outline its positions on the issues of guarantees, security and all relevant issues.
"Today's meeting was creative, but there are still a lot of things to do," he added.
Responding to another question, Anastasiades underlined that he will not discuss the continuation of the Geneva Conference in combination with the suspension of the Republic of Cyprus sovereign rights, noting that this is out of question and was not discussed at the negotiating table.
Moreover he said that the issue of the four freedoms for Turkish citizens was not discussed during today`s meeting.
Cyprus has been divided since 1974, when Turkish troops invaded and occupied 37% of its territory. UN-led talks between Anastasiades and Akinci have been underway since May 2015 with a view to reunite the island under a federal roof.
Article written by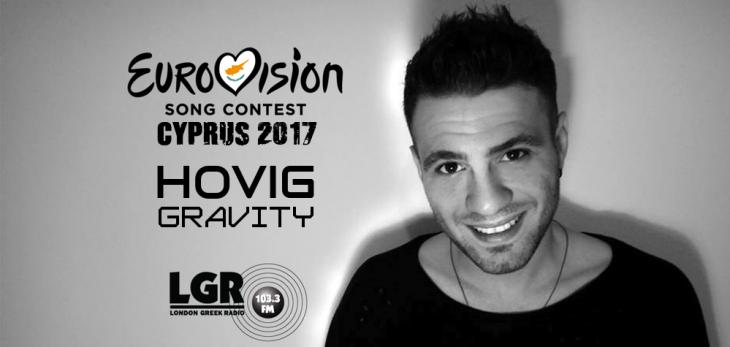 Cypriot singer Hovig will represent Cyprus in the up coming Eurovision Song Contest, which takes place at International Exhibition Centre IEC in Kyiv. He will sing 'Gravity' written by Thomas G:Son, a Swedish producer, well-known in Eurovision circles.
Hovig Demirdjian was confirmed as the island's representative on 16th October 2016, internally selected by the Cypriot broadcaster CyBc. It was stipulated then that G:Son would be responsible for producing the song. The Swede's involvement in last year's Cypriot Eurovision entry means he composes the country's tune for a second year.
28 years-old Hovig was born in Nicosia and is a Cypriot artist of Armenian origin. Hovig, whose mother is Cypriot, says he is proud to fly the Cypriot flag at the 2017 contest.
The song's official video clip,  which was exclusively released on 1st March on Eurovision.tv features dancer Natalia Michael. The video was filmed by Emilios Avraam using the CyBc's studios in Nicosia.
Hovig explained on his Facebook page the idea of gravity in this song, suggesting it's a concept that can be interpreted to mean different things to all listeners.
"Anyone can relate and interpret "GRAVITY" into their lover, their religion, their family. To anything that gives them support and push to keep going. It's a bigger power encouraging anyone to continue their path. "I'll catch u when u fall". Who comes into ur mind saying this to u? Is it your God? Ur mum? Ur partner? Or maybe even ur own self doing some reflection?"
The reaction to the song was impressive to say the least as it exceeded over 1.000.000 views in the first month since the release on Eurovision.tv. It is a radio-friendly pop track with electronic beats throughout the song.
The information we have about the Cypriot  live Eurovision performance, is that Hovig will be joined on  stage by a couple of dancers, who have been named as Marios Charalambous and Pavlos Lazarou Kertepene. They will be seeking to re-create the video's atmospheric feel.  It is a team which comprises talented stage director, choreographer Charis Savva, also vocal coach Christos Kyriakides and his costume designer Notis Panagiotou, who is to fit Hovig with his Eurovision's outfit.
The Cypriot delegation will be quietly optimistic about their qualifying chances for a third year, following the recent successes by Minus One and John Karayiannis.
The Cyprus entry competes in the First Eurovision Semi-Final, which airs on Tuesday 9th May, televised live on BBC 4. Hovig will be hoping to advance to the Eurovision Final on Saturday 13th May 2017.
If you haven't watched 'Gravity' yet, check out the official video here:
Article written by Tony Neophytou