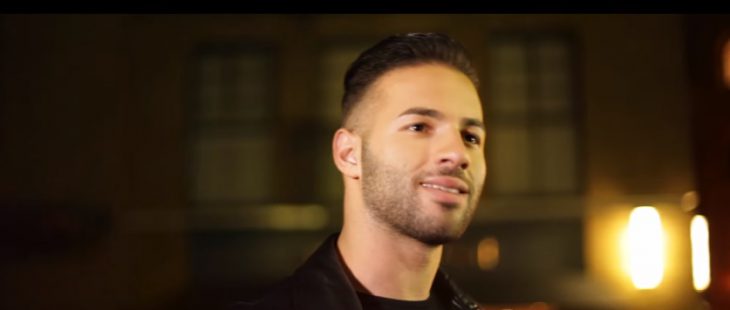 Anyone following his career would know that Greek Cypriot singer Kyriacos Georgiou has been enjoying huge success at Spin Records, an independent Greek label. With the release of his latest hit, 'Κατειλημμένος' London Greek Radio caught up with Kyri for an exclusive interview about his new single and his exciting plans for the future.
Kyriacos started by talking to LGR about his American tour last January.
"Yes I've been keeping myself busy as usual. I have just come off tour from America. I was singing to the Greek Americans on the cruise line Freedom of the Seas by the Royal Caribbean. It was an amazing experience as I got to meet many Greeks from all over America for the second year running."
His new single 'Kateilimmenos' can be described as an up-beat Laiko tsifteteli that has gone straight into the London Greek Radio playlist.
"I just released my new song called 'Kateilimmenos' lyrics by Jackpot and music by Giannis Ieremias. I'm happy to be working with this team as we previously worked on many projects before together and we have a great bond and friendship in the studio.
I'm really excited about my new upbeat single and hope that it is liked by my fans and followers."
The Official Lyric video which was uploaded to the Spin Records YouTube channel has greatly surpassed 100,000 views. Kyri talks to us about its immediate success:
"It's only just been released but I am getting a really good response and I'm really happy about that! We managed to hit 120.000 views in just under a month and we have only just started promo on it. I hope it carries on like this."
Kyriacos also revealed that he will be returning to the recording studio soon. He is to follow-up 'Kateilimmenos' with a new summer single. He is also in talks with potential venues in Athens looking to confirm where he'll be performing at the bouzoukia, throughout the up-coming hot season. The work will mean he is often absent from London for long periods and often thinks of home a lot.
"In London I miss my family and friends most but I come over often as much as I can to visit.
Apart from that I want to thank Tony from LGR for always supporting & backing me up in my music career. Thanks Tony & the LGR team for all the support!"
We are looking forward to the new tune and as soon as we have it on our hands, it will be straight on the London Greek Radio air waves. Meanwhile, check out 'Kateilimmenos' his current hit, below:
Article written by Tony Neophytou
AEK of Larnaca and Apollon of Limassol achieved great victories over APOEL and Omonia respectively for match day 3 of the second phase of the Cyprus league.
The results of match day 3 of the second phase of the championship are as follows:
Group A`: AEK-APOEL 2-1, Omonia-Apollon 0-2, Anorthosis – AEL 0-1.
Standings: APOEL 68, Apollon 64, AEK 62, AEL 55, Omonia 54, Anorthosis 39.
Group B`: Doxa-Karmiotissa 3-0, Aris – Ethnicos Achnas 0-1, Nea Salamina-Ermis ¾ 19:00.
Standings: Ermis 38, Nea Salamina 34, Ethnikos Ahnas 33, Karmiotissa 30, Aris 30, Doxa 26.
Article written by
Following an explosion that has taken place today in the St. Petersburg metro, Cyprus Ministry of Foreign Affairs announces that on the basis of currently available information, it appears that no Cypriot citizen has come of harm.
It also notes that it is following closely the situation, in coordination with Cyprus` Embassy in Moscow and Consulate General in St. Petersburg. The Ministry says that will continue to monitor the situation closely.
For more information, Cypriot citizens can contact the Consulate General in St. Petersburg or the Ministry's Crisis Management Centre, as follows:
Consulate General in St. Petersburg
Contact information during office hours (9:00 – 16:30, Monday – Friday)
Address
Furshtatskaya Ulitsa 27
191123 St. Petersburg
Tel.:                            + 7 812 456 22 55
Tel. from Cyprus:     + 357 22 65 1517
Fax:                            + 7 812 456 22 66
Email:                        info@cyprus-spb.ru
Web:                           www.cyprus-spb.ru
Contact information during out of office hours
Tel:                             +7 921 751 40 84
+7 921 186 62 76
Ministry Crisis Management Centre
Tel.:                            +35722801000
+35797775998
Email:                        cycc@mfa.gov.cy
Article written by